Nowcasts and Consensus Forecasts
GDP nowcasts – some of which suggest a third straight quarter of 3%-plus growth – are once again in the news. Consensus forecasts are almost as upbeat. The question is, how reliable are these estimates?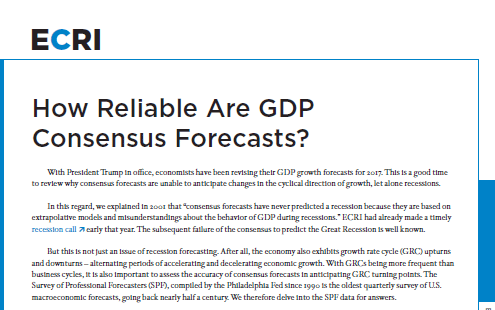 Several months ago we released a report to our professional members detailing the ins and outs of nowcasts and consensus forecasts. Three insights stood out:

• The accuracy of consensus forecasts depends on the stage of the economic cycle, so we know when they should be ignored.

• There are periods when the current-quarter nowcast is consistently less accurate than even the consensus forecast for a year later.

• There are specific times when the consensus estimate of current-quarter GDP growth is more accurate than popular nowcasts.

Click here to download a copy of this ECRI Insight report.

For more information on ECRI professional services please contact us.