Inflation Cycle View Provides Clarity
To see how ECRI's guidance on inflation cycles has helped our clients navigate fixed income markets in recent years, recall the timing of our inflation cycle upturn and downturn calls, and contrast that with how the markets and the Fed behaved.

Here are 10-year treasury yields over the last five years, with the up and down arrows pinpointing the timing of ECRI's inflation cycle upturn and downturn calls.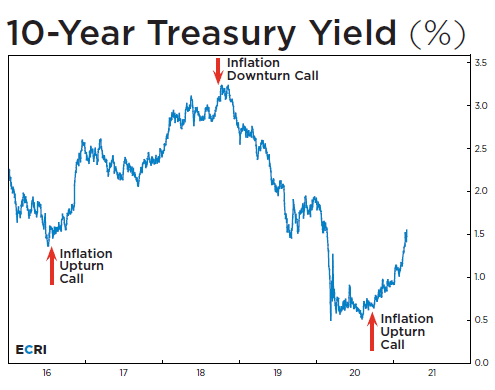 In summer 2016, when treasury yields were around record lows, we made a U.S. inflation cycle upturn call (first up-arrow on the left). This was followed in short order by ECRI's growth rate cycle upturn call – before the 2016 election.

By mid-2017, the upswing in global growth and inflation was so obvious that everybody wanted to take credit, including the heads of the world's major central banks meeting in Sintra, Portugal. As it turned out, that was their "mission accomplished" moment, under the mistaken impression that they had been able to achieve a structural normalization of the economy, leaving behind years of lowflation and low growth.

Accordingly, the plan was for the Fed to lead the way out of unconventional monetary policy, with the Fed rate hike cycle to be followed by rate hike cycles in the Eurozone and Japan.

This is why, in summer 2018, when ECRI signaled an inflation cycle downturn (down-arrow in the middle), the Fed and the fixed-income markets were both still looking the wrong way. Of course, the Fed kept raising rates through December before its abrupt about-face in early January, walking back its hawkish stance. ECRI was well ahead of the curve.

Recession kills inflation, so treasury yields plunged last spring. But the recession was unusually short and underlying inflation pressures bottomed out quickly, which is why we made an inflation cycle upturn call back in September (right-hand up-arrow), when 10-year yields still had a point-six handle.

That inflation upturn call was based on our recognition of a pronounced, pervasive and persistent upturn in our U.S. Future Inflation Gauge (USFIG). In turn, inflation, as measured by both the CPI and PCE deflator, has turned up, and that's well before any base effects come into play.

Indeed, with the USFIG having broken out to a new 13½-year high, inflation is set to keep rising. To be clear, this is regardless of any base effects or even a full reopening of the economy.

The Fed – as well as many in the markets – don't appreciate that a cyclical upturn in inflation is already underway, with no end in sight.

Instead, they are largely attributing a potential rise in inflation to these two stories – base effects and reopening. This is why they believe any rise in inflation will be "transitory," and why the Fed has decided that it doesn't need to react anytime soon.

The problem comes if the inflation upturn already underway keeps going past their comfort zone. Alternatively, if the USFIG turns down later this year, inflation may not even get that high.

The bottom line? Watch the USFIG.
Review ECRI's current real-time track record.

For information on our professional services please contact us.

Follow @businesscycle on Twitter and on LinkedIn.