Hard Data Decelerating
For the U.S. there's nothing to be optimistic about – except optimism itself. In other words, the risk-on rally is predicated on a revival in growth, including solid holiday sales. But, regardless of new market highs, there is little objective evidence in the hard data to support that view.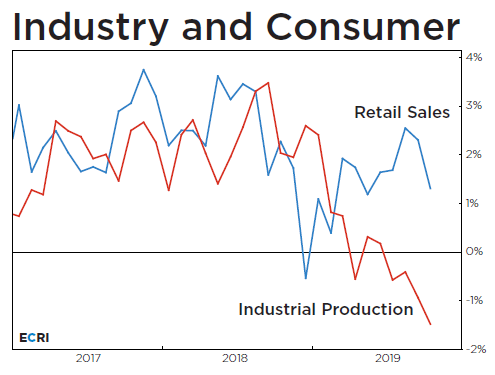 The chart presents the hard data for industry and the consumer – the heart of the real economy – showing worsening growth.

Specifically, yoy industrial production growth in manufacturing is deep in negative territory, already at a 3½-yr low. And real retail sales growth is also falling.

The whole economy-is-fine story hinges on healthy consumer spending offsetting the weakness in manufacturing, but both continue to slow.

Please recall, the cyclical slowdown in growth actually began in mid-2018, when most were betting on rising bond yields.

ECRI clearly warned that was not going to happen, but when stock prices plunged last December, pricing in recession, ECRI demurred.

We did, however, predict that – even with the Fed capitulating – the slowdown would continue. Fast-forward to August, when the markets again dropped on recession fears, ECRI was steadfast, still not predicting recession.

Today, with markets looking for a revival in growth, having priced-out a recession, our leading indexes are raising yellow flags around consumer spending. So while recession is not right around the corner, it is risky to presume that, with growth continuing to slow, recession is off the table.

Some hope that an upturn in global growth will necessarily include the U.S. To be clear, ECRI did correctly predict the Eurozone growth revival back in the early summer, when everybody was looking the other way. And it is the Eurozone upturn that is supporting a nascent upturn in our forward looking indexes of global industrial growth. But it is a mistake to conflate this with a reacceleration in U.S. growth.
Unbeknownst to virtually all, an upturn in Eurozone growth was set to take hold by early summer. Find out what happens next here: https://t.co/IH3Vf7PNJ5 pic.twitter.com/h7Fi9Wkps4

— Lakshman Achuthan (@businesscycle) November 14, 2019


In other words, U.S. growth has been slowing even as Eurozone growth has started firming, and that's not about to change, according to our leading indexes.
What many do not realize is that it is possible to have asynchronous business cycles internationally. In fact, we saw that for much of the 1990s. This is part of the reason ECRI has tailor-made leading indexes for 22 countries.

Nevertheless, with "Not-QE" in full force and a presumption that a soft-landing is assured, the market could keep ignoring the hard data.

Still, with markets around all-time highs and unemployment near all-time lows, it is easy to believe that there is no recession risk. Yet, the S&P closed at a new high two months before the Great Recession began. Also, stocks hit their highs the same month that the 1990-91 recession began. And right after the 2001 recession began, stocks rallied almost 20% in a month and a half, before giving up the ghost.

While this isn't our current forecast, if we follow a similar pattern this time around, with September's 3.5% being the cyclical low, a recession would begin next spring. This does underscore why a low unemployment rate doesn't remove recession risk.

Recession or not, please recall our earlier interview about stock prices and economic cycles. Post-GFC, the risk of market corrections has always risen during cyclical slowdown in growth, despite QE.
Many think that in the post-GFC world it's all about extraordinary monetary and fiscal stimulus, so cycles are old hat and investors don't need to watch them. That's just not true. Interview here: https://t.co/eGo1rrQtis pic.twitter.com/pf6EBMn890

— Lakshman Achuthan (@businesscycle) November 12, 2018
Review ECRI's recent real-time track record.

For information on ECRI professional services please contact us.

Follow @businesscycle on Twitter and ECRI on LinkedIn.