Great Headlines Mislead On Jobs
As the U.S. election cycle gets underway, expect much debate over just how strong the economy really is after last week marking its longest uninterrupted expansion in America's history. After all, the jobless rate is near a half-century low and the S&P 500 Index is close to a record high. The bond market, though, is still signaling that the Federal Reserve will soon be forced to ease monetary policy to shore up the economy. How can that be?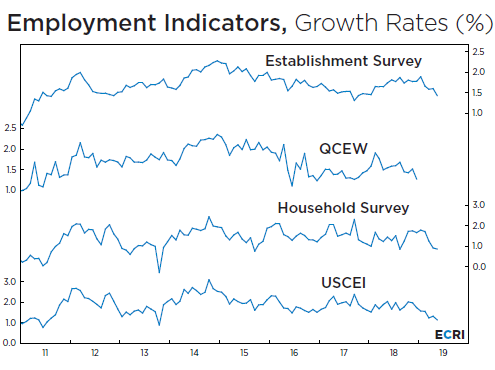 A key part of the answer lies with jobs "growth," which has been slowing much more than most probably realize. Certainly, that's caused year-over-year (yoy) payroll growth, based on the Labor Department's Establishment Survey, based on a broad survey of businesses and government agencies, to decline to its lowest reading since early 2018 (top line in chart). But yoy job growth, as measured by the separate Household Survey, based on a Labor Department survey of actual households, which is used to calculate the unemployment rate, is only a hair's breadth from a five-and-a-half-year low (third line). (The data in the chart does not reflect Friday's employment report.)

Growth in ECRI's more comprehensive U.S. Coincident Employment Index (USCEI), which includes both those figures and more – is near its worst reading since late 2013 (bottom line). Because it subsumes data from both surveys, its verdict about overall job growth is more reliable than the others'.

But there's even more cause for concern. Months from now, the Establishment Survey will undergo its annual retrospective benchmark revision, based almost entirely on the Quarterly Census of Employment and Wages (QCEW) conducted by the Labor Department. That's because the QCEW is not just a sample-based survey, but a census that counts jobs at every establishment, meaning that the data are definitive, but take time to collect. Since it is retrospective, few pay any attention, but the QCEW offers critical information for those wanting to verify that the job market is as strong as the headlines would lead you to believe.

The latest QCEW data is available through December 2018, but note how much worse the 2018 QCEW data looks (second line) than the Establishment Survey data (top line), even though the two appear fairly similar in previous years, for which the latter has already undergone the requisite revisions.

The Establishment Survey's nonfarm jobs figures will clearly be revised down as the QCEW data show job growth averaging only 177,000 a month in 2018. That means the Establishment Survey may be overstating the real numbers by more than 25%.

In essence, the Establishment Survey paints an overly rosy picture of job growth last year. Based on more comprehensive jobs data, it is probably still be doing so.

Politicians of all stripes are in the business of mythmaking, so it's no surprise that they've been touting the robust health of the labor market, even as the ground shifts beneath their feet. But slowing job growth virtually dictates that there will be a new chapter to the jobs story as campaigning goes into full swing.

Click here to review ECRI's recent real-time track record.

For information on ECRI professional services please contact us.

Follow @businesscycle on Twitter and on LinkedIn.