Gold is Not All that Glitters
While the price of gold has surged 33% above its March low, copper prices have soared by 39%. Sure, gold grabs the headlines, but industrial commodity prices have truly been on a tear. Indeed, the price of copper has risen over 23% – nearly double the gold price increase – since ECRI first flagged an industrial growth revival back in May.

In early June – when manufacturing PMI data had only just begun to edge up – we highlighted for clients the decisive upturn in Industrial Price Index (IPI) growth, indicating "a cyclical revival in industrial growth."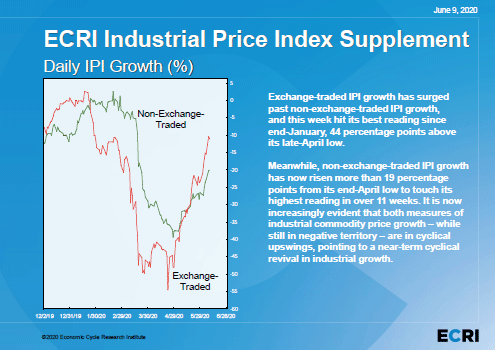 Our conviction on this directional call was bolstered by a unique feature of ECRI's IPI: while half the commodities in the index are exchange-traded and subject to speculation, the other half is not, and therefore driven more purely by the cyclical demand dynamics of the real economy. In other words, their price signals are largely impervious to the "risk-on" rallies fueled by Fed largesse.

It's the decisive upswing in the growth of these non-speculative commodity prices (green line in chart) that validated the upturn in the growth of speculative commodity prices (red line). In conjunction with ECRI's separate array of leading indexes of industrial growth, those high-frequency daily leading indicators gave ECRI clients a clear signal of an industrial growth upswing.

Overflowing crude oil supplies can produce treacherous oil slicks, and Dr. Copper can be swayed by speculation. But the collective wisdom of price signals from commodity prices not subject to speculative forces provides a surer steer. Notably, both the speculative and non-speculative commodity prices are now "surging in sync."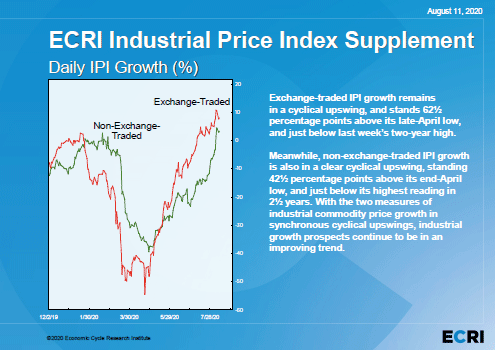 The question is – with consumer spending growth showing signs of faltering – how long will these commodity prices keep waving the green flag? For an unequivocal answer, we'll keep a close eye on ECRI's high-frequency leading indexes, in the context of those for U.S. consumer spending and the global industrial growth cycle.
Review ECRI's real-time track record.
For information on ECRI professional services please contact us.

Follow @businesscycle on Twitter and ECRI on LinkedIn.