Global Industrial Upturn Despite Continuing Covid Crisis
The business cycle may be the single most important determinant of investment and business performance. Below we share a walkthrough of our 2020 global industrial growth upturn call. Contact us here to inquire about working with ECRI.

May 2020: with PMI's barely off the floor after a complete collapse, our indicators of global industrial growth were already flagging an "Industrial Growth Revival on the Horizon."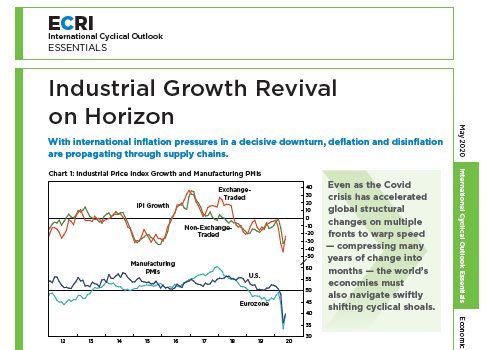 But this call was only the start of what became a defining theme of the 2020 upturn in the wake of Covid-forced recessions.

Summer 2020: we continued to see advances in our leading indexes and knew that the upturn would continue, stating in our July 2020 International Essentials report that "[t]he resilience of the global industrial growth upswing — despite an ongoing pandemic and socio-political turmoil — remains undeniable. That holds until the forward-looking drivers of the cycle, which cut through the economic uncertainty, turn down."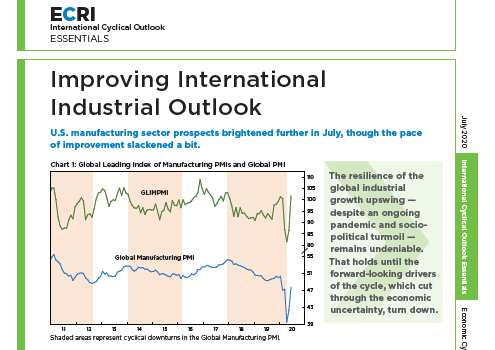 Yet many were confused by the global crosscurrents, but our many-cycles framework and insights regarding the timing of turning points allowed us to clarify to our clients in our September 2020 International Essentials report: "It is the global industrial growth upturn – which we flagged months ago – that is responsible for most of the cyclical impetus powering the international upswings in export growth. In the U.S. – which remains the world's biggest consumer market – goods demand has been bolstered by the redirection of consumer spending from services to goods. Indeed, 'a fair proportion of these goods are imported from Asia. … The upshot has been a spurt in eastbound trans-Pacific freight rates' (U.S. Essentials, August 2020). Certainly, massive fiscal stimulus between April and July also helped consumer spending in this regard, especially for lower income households – with high marginal propensities to consume – who had been living paycheck to paycheck."

Fall 2020: many feared that a second wave would again cause a massive pullback in demand, but our indicators pointed in just the opposite direction, helping those who track our work to benefit from the confusion.

By November, continuing to see positive signals, we wrote in our International Essentials report that "[g]lobal industrial growth prospects have continued to improve, suggesting that, even in the face of rising infections, PMI data will hold up. That is the implication of the further rise in ECRI's Global Leading Index of Manufacturing PMIs (GLIMPMI) to its best reading since 2009."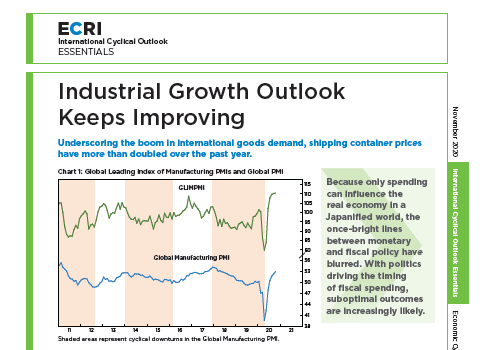 What happens in the near term has already been decided by our leading indexes.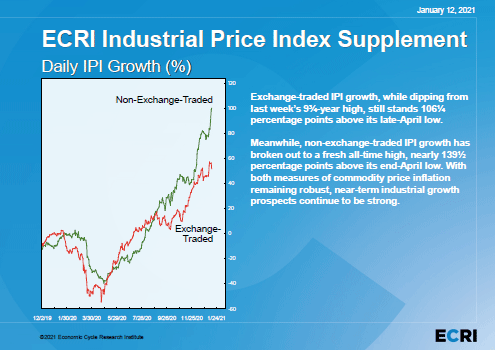 2021 look-ahead: there are hints of an industrial slowdown on the horizon. We are closely watching our suite of global industrial growth leading indexes, which work in a sequential manner, for confirmation and additional timing information. Until then, global industrial growth and the many cycles it impacts are likely to hold up.
****
Using unique cyclical insights based on our proprietary data, we partner with you to customize the integration of cycle risk management into your existing processes.
Please inquire about a cycle risk management audit, where we work with institutions like yours to assess your risk exposure and opportunities. We provide solutions to protect and profit from cyclical turns that often catch the consensus off guard.
Review ECRI's current real-time track record.

For information on our professional services please contact us.

Follow @businesscycle on Twitter and on LinkedIn.