Forecast to Fact: Green Shoots in the Eurozone
Unbeknownst to virtually all, an upturn in Eurozone growth was set to take hold by early summer. This was the cyclical setup in the face of widespread uncertainty fueled by the threat of Brexit, the rise of populism, and the feared fallout from the trade war. ECRI's leading indexes cut through the confusion, providing clarity on the future cyclical direction of growth.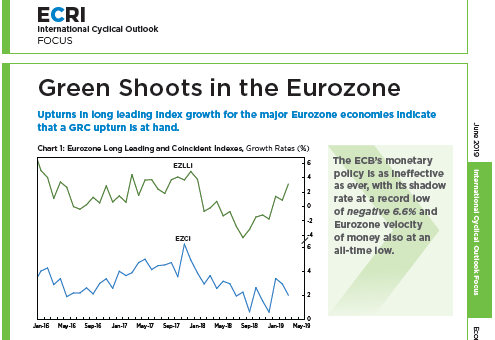 Despite continued weakness in manufacturing, which was set to remain under pressure in the near term, a broadbased – albeit mild – Eurozone growth rate cycle (GRC) upturn was taking shape.

Our conviction that a GRC upturn was taking shape was supported by our objective three P's process, which measures how pronounced, pervasive, and persistent the cyclical move is compared to similar past cyclical upturns. In applying this analysis to our long leading and coincident indexes for Germany, France, Italy, and Spain, it was clear that each index was in a three P's upturn, consistent with its behavior around past GRC upturns.

Just this week, we updated our "Eurozone Green Shoots" forecast on Bloomberg TV. You can watch that interview here:
Interview on ECRI's early summer call that Eurozone growth would turn up, and how that relates to the prospect of a global industrial growth upturn. https://t.co/Xoawu27jaz pic.twitter.com/A0EHQpqHaj

— Lakshman Achuthan (@businesscycle) November 11, 2019

Meanwhile, the latest data on Q3 2019 German, French and Italian GDP – all beating consensus estimates – clearly vindicate ECRI's contrarian call, which continues to evolve.

Review our recent real-time track record.

For information on our professional services please contact us.

Follow @businesscycle on Twitter and on LinkedIn.