Fastest Job Loss Ever
In just two months, we've lost more than twice the percentage of jobs lost in over two years around the Great Recession, and nearly half the percentage lost in over 3½ years during the Great Depression.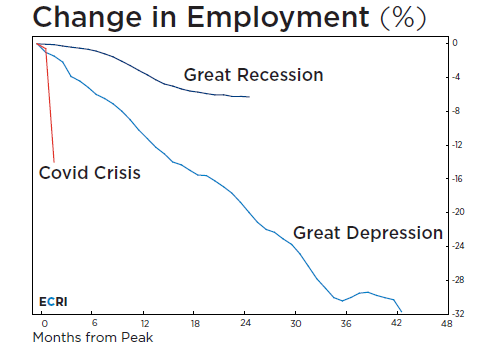 U.S. nonfarm employment has already plunged 14% in two months. That's more than double the 6.3% decline in employment in over two years around the Great Recession. It's also nearly half the 31.7% drop in employment in more than 3½ years during the Great Depression.
Eventually, the hemorrhaging of jobs will be stanched, and employment will start rising. But even that would be far from enough for things to start feeling better.

For a sustainable, self-feeding recovery to begin, job gains must translate to sufficiently rising incomes to drive higher sales, which must feed into greater output. The question is when that virtuous cycle will begin to gain traction.

This is where good leading indexes – not politics, epidemiology, or therapeutics – are critical to watch, because they are designed to signal sustainable cyclical revivals.

Such leading indexes aren't the same as econometric models back-fitted to recent decades' data that don't include anything like the current crisis. Rather, we rely on conceptually-rooted leading indicator systems that have been tried and tested over more than a century of recessions, including the Spanish flu and the Panic of 1907, when the Fed didn't exist. Only such durable leading indicators can be trusted to see the light at the end of the tunnel of this recession – as well as the shape of the recovery that follows.
Review ECRI's recent real-time track record.

For information on ECRI professional services please contact us.

Follow @businesscycle on Twitter and ECRI on LinkedIn.