Falling Growth in Hours Worked
Slowdown Comes Into Clear Focus

The slowdown that ECRI flagged back in the spring has come into clear focus. In November, year-over-year (yoy) growth in aggregate weekly hours for production and nonsupervisory workers fell for the fourth straight month to a 13-month low in the goods sector (top line in chart), while easing for the third straight month to a ten-month low in the services sector (bottom line).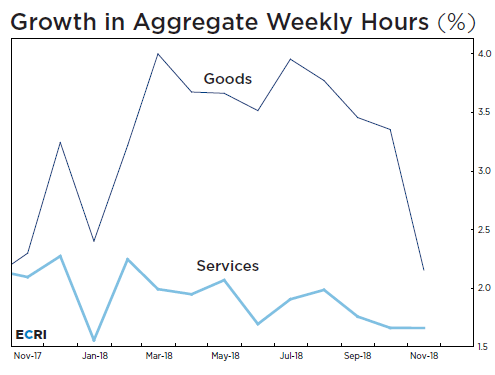 In fact, yoy aggregate service-sector hours growth peaked last year, and has been in a gentle downtrend since early this year. But yoy aggregate goods-sector hours growth – after seeing a double-top in the spring and summer – nosedived only in November.

As a result, the downturn in yoy overall hours growth – which has been sliding since the summer – has dropped to a ten-month low in its latest reading. With the number of total hours worked in November virtually unchanged from August, the slowdown is increasingly hard to ignore.
Click here to review ECRI's recent track record.

For more information on ECRI professional services please contact us.