Employment Dives Followed by Solid Uptick
In just two months, we lost more than double the percentage of jobs lost in over two years around the Great Recession, and nearly half the percentage lost in over 3½ years during the Great Depression, before regaining more than one in nine of those lost jobs in May.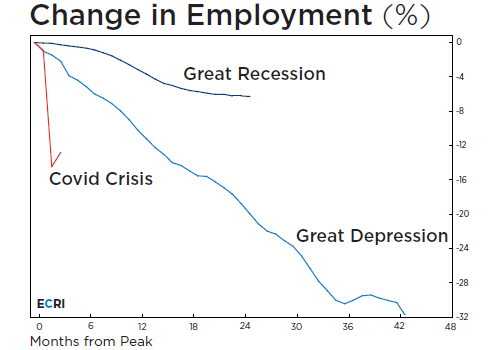 U.S. nonfarm employment plunged 14½% in two months – more than double the 6.3% decline in employment in over two years around the Great Recession – and almost half the 31.7% drop in employment in more than 3½ years during the Great Depression – before starting a quick snapback.
As a recovery begins, net job losses give way to net job gains. But the jobless rate will stay very high for a while.
What's needed is for the recessionary vicious cycle of falling output, employment, income and sales to transition a self-feeding virtuous cycle of rising output inducing more hiring, leading to higher income and increasing sales, which feeds back into higher output, and so on.

The question is when that virtuous cycle will begin to gain traction. This is where good leading indexes – not politics, epidemiology, or therapeutics – are critical to watch, because they are designed to signal sustainable cyclical revivals.

We don't mean leading indicators that look good because they've been re-jiggered based on revised data, but leading indexes with good real-time track records. It means conceptually-rooted leading indicator systems that have been tried and tested over more than a century of recessions, including the Spanish flu and the Panic of 1907, when the Fed didn't exist.

The good news is that such durable leading indicators started seeing the light at the end of this recessionary tunnel weeks ago. A case in point is ECRI's Weekly Leading Index, which has now risen for nine straight weeks, even though other well-known leading indicators – with poor real-time track records – have kept falling, and look set to miss the turns in the cycle as they did before past recessions and recoveries.
History repeats itself. As ECRI's Weekly Leading Index points to recovery, the Conference Board's LEI and the OECD's CLI keep falling. https://t.co/2CQBTHRCLH pic.twitter.com/yrIUgIRXKe

— Lakshman Achuthan (@businesscycle) June 4, 2020

The danger – to stock prices and job growth – is that we'll see a renewed slowdown later in the year. ECRI's leading indicator systems are designed to warn us promptly of any such hazards.
Review ECRI's real-time track record.

For information on ECRI professional services please contact us.

Follow @businesscycle on Twitter and ECRI on LinkedIn.