ECRI Industrial Price Index Continues to Drop
Recent updates to the ECRI Industrial Price Index (IPI)* reveal that the weakness in global industrial growth being flagged by the latest international PMI data won't let up anytime soon.

In late November, we publicly shared an update to our private April call for a weakening global industrial growth outlook, with a chart of our IPI and crude oil prices underscoring that there was no upturn in sight. That directional call remains intact (see chart):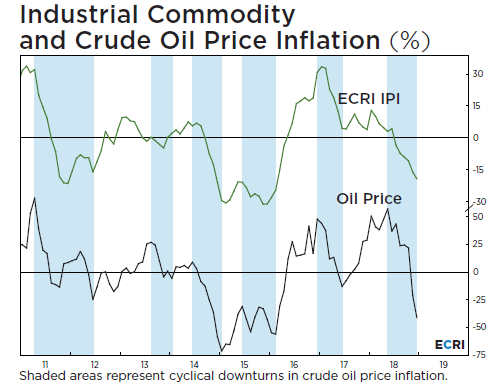 A key reason the IPI is so different from other commodity price indexes is that about half the commodities it tracks aren't exchange-traded. So it isn't jerked around by speculative forces the way exchange-traded commodity prices – like oil prices – can be. Anchored by the prices of commodities that are less familiar but are also vital industrial inputs, the IPI provides a more reliable read of cyclical swings in broad commodity price inflation.

Importantly, the IPI isn't a stand-alone tool, and is best used in the context of ECRI's understanding of cycles in global industrial growth. In fact, we first forecast the current cyclical slowdown in global industrial growth more than a year ago."

As investors look for clues to the next upturn in commodity price inflation and global growth, the ECRI IPI, along with our array of sequential leading indexes of global growth, is likely to provide the most reliable early warning.

Download our recent track record here in PDF. For more information on ECRI professional services please contact us.

* Also known as the JoC-ECRI Industrial Price Index (JoC-ECRI IPI) and formerly distributed on the Bloomberg terminal, the IPI was created in 1986 by ECRI co-founder Geoffrey H. Moore, who had pioneered the development of leading indexes of business cycles at the National Bureau of Economic Research. The IPI is based on the prices of 18 industrial commodities tracked by the index, compiled every weekday by ECRI, which retains full ownership of the IPI.

The IPI does not include agricultural commodities or precious metals such as gold or silver, but only industrial raw materials, ranging from copper, nickel and aluminum to plywood, benzene, cotton and crude oil.

Notably, around half the IPI components are not "exchange-traded" commodities, which means their prices are not established in the world's commodity exchanges. This serves as a reality check on the prices of the other half, making the index less susceptible to the speculative moves often seen in exchange-traded commodity prices.