ECRI Indexes Lead Global PMI
At ECRI, we understand that, to manage cyclical risk, it is helpful to have a sequence of long, short and coincident indicators to build conviction about where we are in a cycle. This is why we have spent decades developing an array of international long leading indexes.

The global industrial cycle is a good example: ECRI's sequential leading indexes helped us correctly forecast the current slowdown a year ago. Please recall that this was when the Global PMIs were around their highs for the cycle. In retrospect, it is now clear that the Global PMIs were just starting to peak, but it then took clear declines in the PMIs for the consensus to catch on to the reality of the global industrial slowdown.

The chart below shows how ECRI's leading indexes clearly anticipated the 2018 downturn in the Global PMI, correctly signaling the shift in the global industrial growth outlook well ahead of the consensus.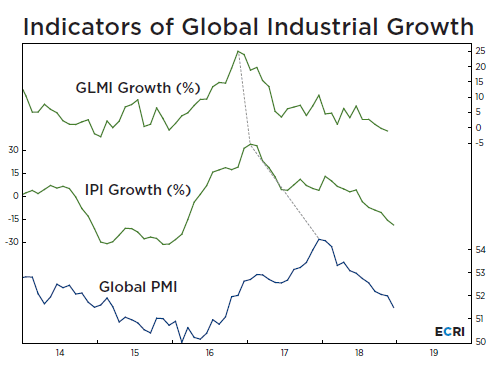 In fact, Global PMI data peaked after the downturn in commodity price inflation captured by ECRI's Industrial Price Index (IPI), which, in turn, followed the downturn in Global Leading Manufacturing Index (GLMI) growth.

These sequential cyclical downturns in GLMI growth, IPI growth and the Global PMI demonstrate how ECRI's cyclical leading indexes provide early warning of cycle turns, helping managers to better mitigate related risks.

Today, while the current downturn is not yet over, ECRI is keeping a sharp eye for any signs of the next cycle upturn.

Click here to review ECRI's recent track record.

For more information on ECRI professional services please contact us.