Cycle Turns & Equity Corrections
The S&P 500 has now entered correction territory.

Even though stock prices hit new highs in September, with ECRI's earlier growth rate cycle (GRC) downturn call still intact, the risk of a fresh correction remained elevated.

This was the focus of ECRI's CNBC interview in late August when we shared our research that, in each GRC downturn since the financial crisis, there's been least one 10-20% equity price correction.

In February, during the first correction associated with the 2018 slowdown, the S&P dropped about 10%, and it took seven months to claw back those losses – par for the course. But then, after hitting a new high three months ago, the market has dropped more than 11%.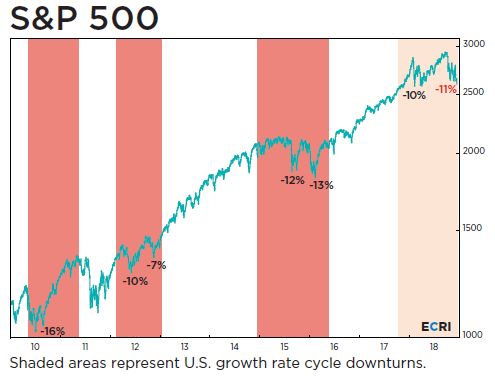 This is the fourth GRC downturn since 2010, each of which saw 10% or larger corrections.

- 2010: 16% correction, seven months to recover.
- 2012: about 10% and 7% corrections, eight months to recover.
- 2015-16: 12% and 13% corrections, eleven months to recover.
- 2018: 10% correction, about seven months to recover. Another correction (11%+) in progress.

Moreover, the relationship between GRCs and stock price cycles has held over decades, including the pre-crisis era, before Quantitative Easing (QE). But the pattern in the pre-QE era was even more ominous.

Bottom line: Since the current GRC downturn is not over, correction risks remain, at least until our leading indicators flag the next upturn in growth.

Were you able to manage the cyclical risks associated with the growth slowdown? Contact us to discuss ECRI Professional Services.

Review ECRI's real-time track record of recent cycle calls that helped our clients.