Consumer Spending Cools Off
In sharp contrast to the prevailing optimism, ECRI analysis shows consumer spending is in a cyclical slowdown that will weigh on holiday sales.

This chart shows real consumer spending growth for both goods and services.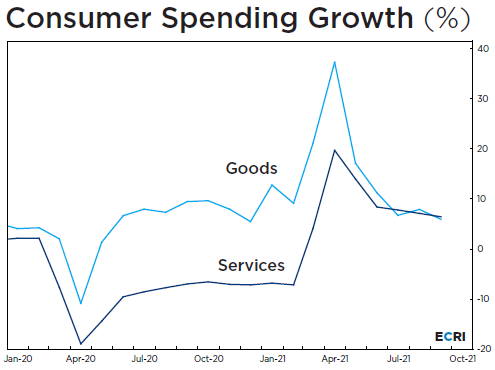 You can see how spending on both goods and services soared last spring on the back of stimulus checks. Even adjusted for inflation, growth in goods spending was up almost 40% year-over-year, which played havoc with supply chains, and services spending growth was up 20% year-over-year.

Since then, through early fall, spending growth for both goods and services has been sliding sharply. While some may wonder if this is simply about base effects, it is not. We have ways to strip out the base effect, and the slowdown patterns shown still hold.

Looking ahead, our research shows this cyclical downturn in consumer spending growth isn't over. And this is part of the story behind our earlier forecast of a cyclical slowdown in overall economic growth.

If you think about it – inflation is really cutting into consumer budgets. Consumer spending intentions for vehicles and appliances are now the worst in over 40 years. Let's not pretend that won't weigh on real holiday spending, adjusted for inflation.

What about retail sales being strong? Retail sales data is much narrower that the consumer spending data shown in the chart. Yes, real retail sales growth showed a slight uptick in October, but the downtrend that began in the spring is very much intact.
Review ECRI's current real-time track record.

For information on our professional services please contact us.

Follow @businesscycle on Twitter and on LinkedIn.