Are We in the Beginning of A New Downturn? Well...
This recession is full of contradictions. We're in a recovery, but still in a recession. The stock market is bouncing back strongly, but markets remain super volatile.

But if we take the broader look? We start to see that the bounce back is leveling off. Just a bit.

"It may be two steps forward, one step back along the way," said Lakshman Achuthan, co-founder of the Economic Cycle Research Institute, on CNN Business' "Markets Now" live show.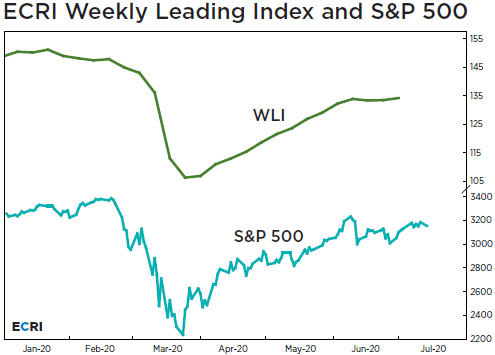 He noted the quick snapback in the jobs report may not remain as strong and long lasting as economists had hoped. Leading economic indexes continue to point to the upside --they're not showing a fresh slowdown -- but, he noted "There's a lot of 'on the one hand / on the other hand' going on."

"As deep and bad as this recession has been, it was going to be relatively short-lived," Achuthan said. "But we have to be on guard. ... What happened in this recession was literally off the charts."
Review ECRI's real-time track record.
For information on ECRI professional services please contact us.

Follow @businesscycle on Twitter and ECRI on LinkedIn.
VIEW THIS ARTICLE ON CNN