Two Key Recovery Scenarios and Markets
ECRI's Lakshman Achuthan joined CNBC's Trading Nation to discuss how markets have fared under two very different types of recoveries this century.

This is a brutal recession, especially in terms of depth and diffusion. But as we said last time we spoke in April, "This recession could end up being among the shortest on record."
Economic forecaster Lakshman Achuthan (@businesscycle) warns a recession worse than the financial crisis is headed our way. Find out more here. https://t.co/ocgdMy6ScM pic.twitter.com/gzei87PHJE

— Trading Nation (@TradingNation) April 23, 2020

That's because, with economic activity plunging so deeply, even a slow, partial opening up of the economy lifts activity off the extreme lows we've been seeing.

The key to a sustained recovery is the switch from a vicious cycle of falling output, employment, income and sales to a self-feeding virtuous cycle of rising sales, leading to more output, job gains, rising incomes and, in turn, more sales.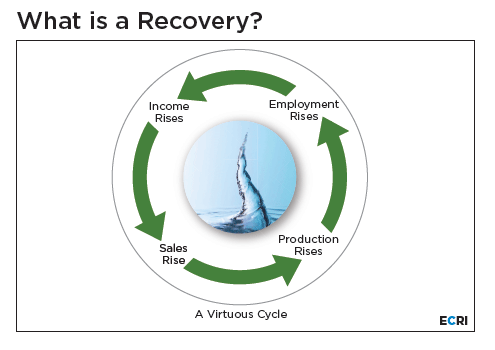 Even though most are focused on epidemiological updates, they are losing sight of a crucial point: you can force a recession, but you can't force a recovery – you can't mandate that virtuous cycle, And this is where good leading indexes are critical, because they can foresee when this virtuous cycle will really get going.

ECRI's Weekly Leading Index has now risen over 18% in eight weeks, starting in late March, following a 30% plunge that began in January.




This is a cyclical upturn in the WLI, providing clear advance notice of a business cycle recovery -- and as usual; it's turned up ahead of other leading indexes.
Stock prices and recovery:
The reality is that stock price troughs always lead business cycle troughs, so the S&P reliably turns up before a recession has ended. This is the cyclical equivalent of buying when there's blood in the water.

The hard evidence from our leading indexes that a recovery is in sight provides cyclical justification for the timing of the stock price upturn, meaning that if the recession ends this summer, it would be quite normal for stock prices to turn up three or four months ahead of that, in late March.
In March 2009 (based on similar analysis) we told our clients that an economic growth upturn was in sight. We were very much alone, since all the talk at the time was of Depression.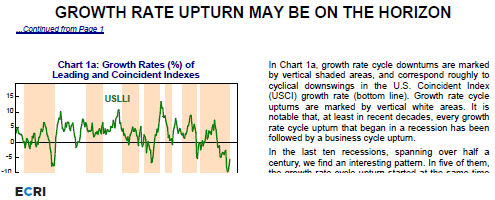 In the 2001-2003 recovery the S&P turned up the week after the 9/11 attacks, and the recession ended in November 2001. After initially rallying over 20% in through early January 2002, the S&P then turned down, plunging to a lower low by October 2002, far below the September low that anticipated the end of the 2001 recession.

What happened was that a fresh slowdown in economic growth that started in mid-2002. It was enough to trigger a new stock price downturn. That it fell well below September 2001 levels had to do with the extreme overvaluation of equities in the dotcom boom, that hadn't been fully squeezed out earlier.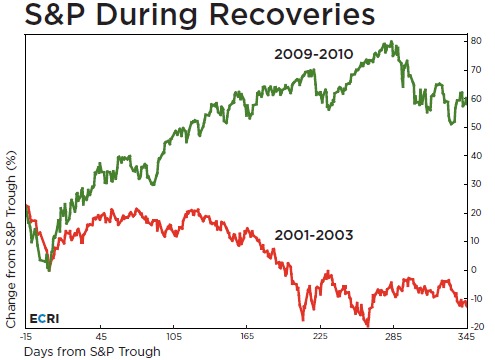 So, the question is, are we in for a 2009-10 scenario, when stock prices essentially kept rising, or a 2001-02 scenario brought on by the prospect of a second wave of the pandemic or a fresh round of job losses?
Unrest hurting the economy?:
The Covid crisis has highlighted disparities in health conditions suffered by racial minorities, resulting in a disproportionate loss of lives in minority communities, which have also suffered a disproportionate loss of livelihoods. Now, George Floyd's death highlights the long history of unequal justice. Unfortunately, a slow jobs recovery in the months and years could heighten these feelings of frustration and alienation.
The danger is that the social unrest might result in a larger spike in infections, or materially undercut the opening of the economy by increasing fear or uncertainty. Of course, it is too soon to tell, but if a fresh slowdown were to appear on the horizon after a recovery begins, our leading indexes will flag that promptly.

The larger question is, what will this social strife do not only to the fabric of society, but also to the vitality of the economy and its longer-term growth potential that would justify current market valuations? We are seeing capital being destroyed, and that's especially hard for small businesses already struggling to open back up. Unfortunately, history doesn't tell us to be hopeful about economic growth in the years following major social unrest, as in the 1970s.

Such conditions foster uncertainty, which is not good for business, or for productivity-enhancing investment. Meanwhile, the Fed has floored the pedal on the road to Japanification, creating an environment where zombie companies can flourish. That's not good for productivity growth, either.
Yes, Japan is in recession, and it has been for eight months. ECRI predicted it in early Sept. 2019. Worse, our leading indexes see no upturn on the horizon. https://t.co/S2q3m1rDZR

— Lakshman Achuthan (@businesscycle) May 18, 2020

But we don't want to prejudge the possibilities. Because we at ECRI have a clear idea about cyclical developments, when we strip out those cyclical changes, we can more clearly see the longer-term structural shifts. And that's why our cyclical expertise lets us pick up on those structural shifts much sooner than most. So, as always, we'll focus on the hard evidence for both cyclical and structural developments as we go forward.

Yet, the words of Rev. Martin Luther King, Jr. still resonate after more than half a century. He called riots "socially destructive and self-defeating," but also "the language of the unheard." He said that "our nation's summers of riots are caused by our nation's winters of delay;" that "large segments of white society are more concerned about tranquility and the status quo than about justice, equality, and humanity;" and that, "as long as America postpones justice, we stand in the position of having these recurrences of violence and riots over and over again." That is what we hope to avoid, in order to unleash America's full potential.
Review ECRI's real-time track record.

For information on ECRI professional services please contact us.

Follow @businesscycle on Twitter and ECRI on LinkedIn.
VIEW THIS ARTICLE ON CNBC