What Is The Risk of a Major Market Correction?
On mobile, click here to view video interview.

ECRI's Lakshman Achuthan discussed on CNBC's Trading Nation yesterday our research on risk of a major correction and how it is linked to economic cycles, specifically to growth rate cycle downturns.

ECRI's chart shows how such corrections in the S&P are linked to growth downturns.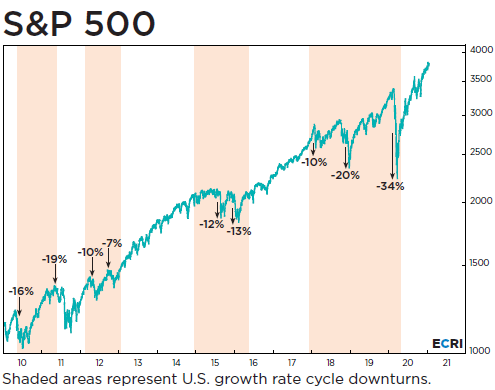 Right now we continue to be in a cyclical upturn and more to the point, our leading indexes are still improving.
Risk of a major correction is 'really low,' economic forecaster Lakshman Achuthan says https://t.co/vlyHxeJETv (via @StephLandsman)

— Trading Nation (@TradingNation) January 22, 2021
Review ECRI's current real-time track record.
For information on our professional services please contact us.

Follow @businesscycle on Twitter and on LinkedIn.

VIEW THIS ARTICLE ON CNBC