Updated Inflation Cycle View
On mobile, click here to view video interview.
ECRI's Lakshman Achuthan joined CNBC's Trading Nation yesterday to discuss our research on inflation expectations, featuring our U.S. Future Inflation Gauge (USFIG) chart, and the Fed's framework shift.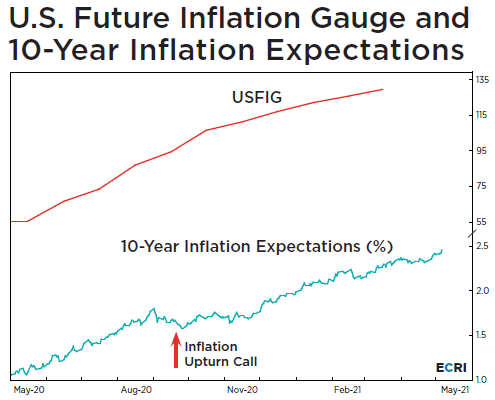 Our latest take on inflation as inflation expectations hit a fresh eight-year high. Watch our interview with @seemacnbc here: https://t.co/HuGhPYbGkC

— Lakshman Achuthan (@businesscycle) May 6, 2021
Review ECRI's current real-time track record.

For information on our professional services please contact us.

Follow @businesscycle on Twitter and on LinkedIn.

VIEW THIS ARTICLE ON CNBC