Inflation Cycle & 10-Year Yields
On mobile, click here to view video interview.

ECRI's Lakshman Achuthan discussed on CNBC's Trading Nation yesterday our work on the inflation cycle and how it is key to understanding where treasury yields are headed.

The chart shows 10-year treasury yields over the last five years, with the up and down arrows marking the timing of ECRI's inflation cycle calls.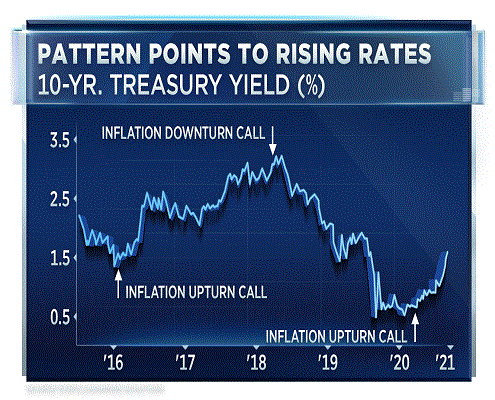 But isn't the rise in inflation likely to be transitory? Our research shows that this is a cyclical upturn in inflation that will keep going beyond the next few months.
The 10-year yield's run is not yet over, says economic researcher Lakshman Achuthan @businesscycle. More on his inflation warning here: https://t.co/zk2a6EXqW3 pic.twitter.com/jvLd6Gklae

— Trading Nation (@TradingNation) March 11, 2021
Review ECRI's current real-time track record.

For information on our professional services please contact us.

Follow @businesscycle on Twitter and on LinkedIn.

VIEW THIS ARTICLE ON CNBC