Market Optimism and the Hard Data
On mobile, click here to view video interview.
Lakshman Achuthan recently spoke with CNBC about ECRI's description of the U.S. slowdown including hard data on business and consumer activity.

The risk-on rally is predicated on a reacceleration in growth starting within a couple of months.

But, aside from risk asset pricing there's little objective evidence in the hard data to support that view. Charting the basic hard data for industry and the consumer – the heart of the real economy – shows that growth turned down in late summer/early fall, and isn't really recovering.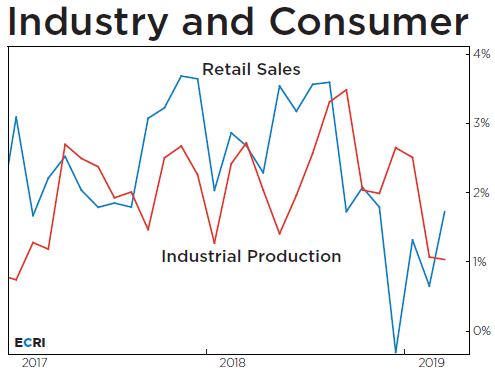 Specifically, industrial production growth in manufacturing is falling, and is already at a two-year low. And real retail sales growth hasn't been this low anytime in the last two years, with the exception of the last three months, which included its worst reading since 2009.

We will continue to rely on our leading indexes to help manage the risk of the next cyclical turn.

Click here to review our recent real-time track record.

For information on our professional services please contact us.

Follow @businesscycle on Twitter and on LinkedIn
VIEW THIS ARTICLE ON CNBC