China's "Rust Belt" Problem
The prime mover of the "Chinese miracle" has been its industrial sector, so declining industrial production in multiple rust belt provinces is a serious matter. This weakness in recent years has been exacerbated by the current global industrial slowdown that predated the trade war, which is also hurting global growth.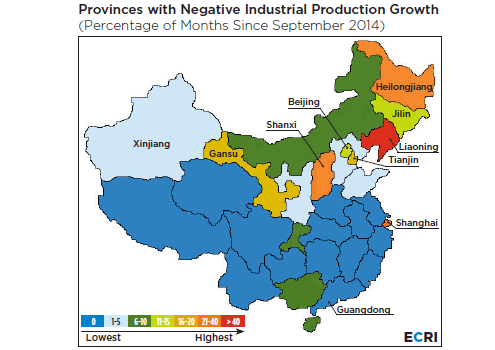 In Q1 2019, there was much hype around China's trillion-dollar stimulus supporting the global economy. But a big part of that stimulus went to shoring up state owned enterprises in an effort to minimize job losses and keep zombie companies open.

As a result, Chinese overcapacity is pushing waves of deflation around the globe. And it's not over.

Download the updated chart, with comments, here.
Click here to review ECRI's recent real-time track record.

For information on ECRI professional services please contact us.

Follow @businesscycle on Twitter and on LinkedIn.
VIEW THIS ARTICLE ON BLOOMBERG