Coronavirus Impact on Commodity Price Outlook
Lakshman Achuthan joined BNN Bloomberg to discuss the cyclical upturn in industrial commodity price inflation, in line with a global industrial growth upturn that has been taking shape, according to our research.

Our global industrial indicators anticipate cycle turns well in advance, so we already know that this nascent upturn in ECRI's Industrial Price Index (IPI) growth is more than noise.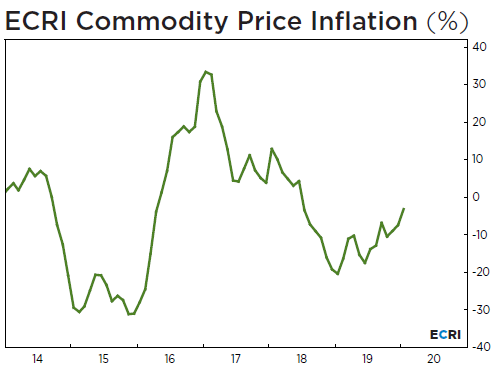 In fact, it's the beginning of a cyclical upturn in industrial commodity price inflation.

This is the flipside of what we discussed with BNN in July of 2018, when we were flagging the cyclical downturn in commodity price inflation, which was linked to the global industrial slowdown that most missed.

Recall that, in the summer of 2018, the big guns in the bond market had been pounding the table as they called for a bond bear market. As for the Fed, they went ahead with a couple more rate hikes in the mistaken belief that economic growth would hold up, while inflation pressures were rising.

So, the analysis we're sharing now is based on a long real-time track record of accurate calls that were fairly out-of-consensus at the time they were made.

Review ECRI's recent real-time track record.

For information on ECRI professional services please contact us.

Follow @businesscycle on Twitter and ECRI on LinkedIn.
VIEW THIS ARTICLE ON BNN BLOOMBERG