Turning Points in Global Growth & Market Risk
ECRI's Lakshman Achuthan joined Bloomberg Asia TV to discuss the global economic outlook, including China, and the importance of turning points in economic growth and inflation to market risk.

China is a key global economy and ECRI was the first to develop leading indexes for the overall economy, the industrial sector, exports, home price inflation and overall inflation.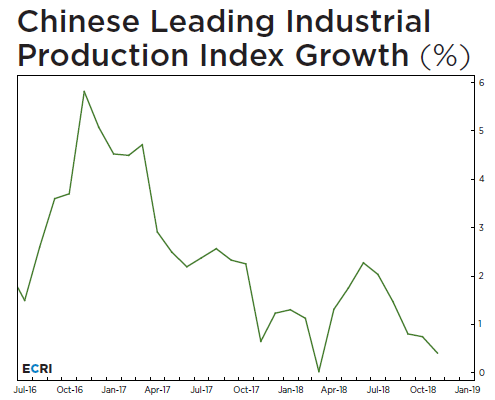 Our leading indexes correctly called the current slowdown, which is not all about trade tensions, but really a one-two punch with trade tensions layering on top of a cyclical slowdown.

Zeroing in on China's industrial sector, our Chinese Leading Industrial Production Index clearly anticipated the ongoing slowdown in that sector. We'll have an update to the CNLIPI for our clients later this week.

Click here to review ECRI's recent real-time track record.

For information on ECRI professional services please contact us.
VIEW THIS ARTICLE ON BLOOMBERG