A Recovery Call that is Still Contrarian
ECRI predicted back in April – based on our leading indexes – that this recession would end by summertime. In fact, the Weekly Leading Index (WLI) turned up in March, and has since risen over 18% in eight weeks.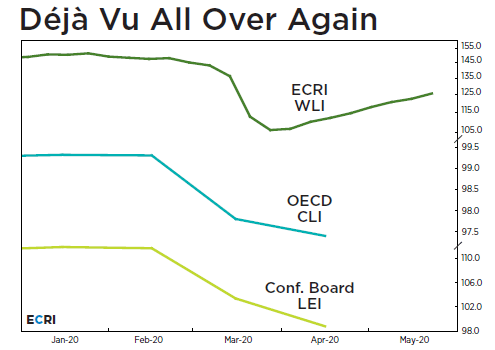 That view was – and still is – very different from those based on other well-known leading indicators: the Conference Board's Index of Leading Economic Indicators (LEI) and the OECD's Composite Leading Indicator (CLI) are still falling. Yet, that glaring divergence is entirely consistent with their respective real-time track records.

"ECRI is perhaps the only organisation to give advance warning of each of the past three recessions," The Economist wrote in 2005, noting that, in March 2001, when "95% of American economists said there would not be a recession," ECRI had declared, "on the basis of its leading economic indicators, that a recession was unavoidable."

In April 2001 – when the Conference Board's LEI still indicated that the expansion would continue – The Wall Street Journal featured a chart juxtaposing the WLI and the LEI, showing that the LEI had failed to predict the two prior recessions, while ECRI had been appropriately prescient.

During the Great Recession, in May 2008 – well after ECRI's recession call – a Conference Board spokesman interpreted its back-to-back increases as "a signal that the economy may not weaken further," observing that the "data certainly reflect a weak economy, but not one in recession."

In April 2009, ECRI predicted that the recession would end by summer. Within days, the Conference Board spokesman again expressed the opposite view: "There's no reason to think that this recession is going to end any time this spring or this summer," given that the LEI hadn't risen since June 2008.

The OECD CLI's real-time performance hasn't been much better. Indeed, it was not until its June 2009 release – five months after ECRI's U.S. Long Leading Index first displayed a potential trough, and two months after the WLI had done so – that the CLI ticked up.

That real-time history is important, not only because decisions are made in real-time, but also because the pattern is repeating today. Whereas the WLI – which helped ECRI make a recovery forecast almost two months ago – has already been rising for eight weeks, the Conference Board's LEI and OECD's CLI are still falling.

It's not back-fitted leading indexes, with data revised after the fact, that reveal the true worth of reliable leading indexes of recession and recovery. Rather, it's their time-tested real-time track records that matter.

Review ECRI's real-time track record.

For information on ECRI professional services please contact us.

Follow @businesscycle on Twitter and ECRI on LinkedIn.