Don't Count on Ever-Growing Corporate Profit
Corporate-profit growth is on the cusp of a downturn. This is a problem because of the widely held view on Wall Street that the path of profit growth could be central to the stock market's direction.

Stock prices can be pushed up by higher earnings or a rising price/earnings multiple. With further expansion of the multiple increasingly unlikely given the Federal Reserve's tightening bias, the consensus view is to count on earnings growth remaining robust. But is that a reasonable expectation?

From a cyclical perspective, it isn't. That's the clear message from forward-looking indicators.

Since 2010, the U.S. has experienced three downturns in the growth-rate cycle, or GRC, which consists of alternating periods of rising and falling economic growth. None of those downturns -- in 2010-11, 2012-13 and 2014-16 -- turned into full-blown recessions, thanks to a historic plunge in the volatility of U.S. growth and the absence of recessionary shocks. Nevertheless, as we explained in August, "the worst non-recession in U.S. history" occurred during the second half of 2012.

As the chart shows, there's a virtual one-to-one correspondence between cyclical downswings in year-over-year corporate profit growth and GRC downturns, which are set off with shaded areas. Essentially, profit growth is very cyclically sensitive. That's not just been the case since the recession, but is also true in historical terms.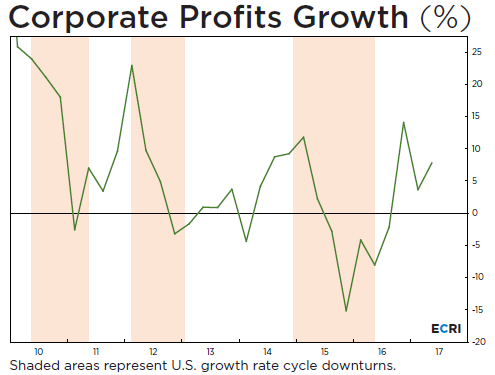 This long-term relationship can be verified using the record of GRC dates going back almost seven decades. The Economic Cycle Research Institute has long maintained these chronologies for the U.S. and 20 other economies, based on an approach analogous to the one used to determine official U.S. recession dates.

Profit growth has been trending up since late 2015, but has fallen below the 19-quarter high of late 2016. But will it ramp up from here, or turn down?

Vital clues come from ECRI's leading indexes. One of them is the publicly-available Weekly Leading Index, or WLI, whose growth rate is a reliable leading indicator of GRC downturns. In essence, if WLI growth enters a cyclical downturn, U.S. economic growth is likely to do the same.

Ominously, WLI growth turned down early this year and is now at a 79-week low. Such cyclical downturns have historically telegraphed GRC downturns. That shows very clearly that economic growth is about as good as it gets, and that a fresh growth slowdown may be on the way.

If so, corporate profit growth will also experience a corresponding cyclical downswing. In other words, it will fall further below its late 2016 peak, not ramp up from here.

Does that necessarily imply a stock-price swoon? We don't know, because ECRI focuses on timing cyclical turning points in growth and doesn't make market calls.

What we can report is that the S&P 500 experienced a correction of almost 15 percent in the early months of the 2010-11 GRC downturn. That was also the period between the first and second rounds of quantitative easing.

Then there was a correction of almost 10 percent in the S&P 500 early in the 2012-13 GRC downturn. The second round of the Federal Reserve's quantitative easing program had ended, but "Operation Twist" was still in progress.

After the end of QE3, which ran from the fall of 2012 to the fall of 2014, there was a 12 percent market correction ending in the late summer of 2015, around the middle of the 2014-16 GRC downturn. After that, there was another 13 percent correction ending in early 2016.

Over time, we find that stock price corrections -- big and small -- have historically clustered around GRC downturns. In other words, the risk of corrections rises around economic slowdowns.

Interest rates have been low since the recession, accompanied by vast intermittent injections of liquidity. Today, there are rising rates, with quantitative tightening about to begin. This will take place during an economic slowdown, implying a likely downswing in corporate profit growth, delivering a proverbial one-two punch.
VIEW THIS ARTICLE ON BLOOMBERG