The US Economic Recovery Has Been Record-breaking. Don't Get Used To It
Despite the continued optimism about the country reopening, US economic growth is already starting to slow.

Yes, year-over-year comparisons to the catastrophic conditions in the spring of 2020 have been puffing up recent economic growth data. But it's important to understand that there's much more to the story from an economic cycle perspective. That's our conclusion not only from the data we regularly monitor that define economic cycles — like GDP and jobs — but also economic indicators that foresee peaks and troughs in those cycles.

At the bottom of a severe recession, the economy is like a coiled spring that jumps back up in the early part of the recovery. Once it's almost fully uncoiled, however, its rebound slows.

That's where we are today. While the economy continues to recover, our work shows that the pace of the recovery is already starting to decelerate. That's clear from our U.S. Coincident Index, which combines the broad measures of output, employment, income and sales.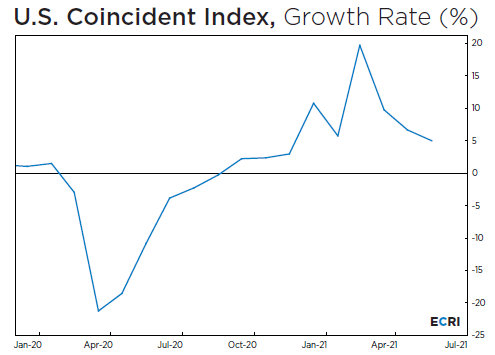 Read full CNN Business Perspective piece here.
Review ECRI's current real-time track record.

For information on our professional services please contact us.

Follow @businesscycle on Twitter and on LinkedIn.

VIEW THIS ARTICLE ON CNN