Key Points from Interview on Cyclical Outlook
1. Despite latest jobs report, labor market remains weak

- Yoy payroll job growth was unchanged from September's 11-month low
- Yoy employment growth (household survey) dropped to a 22-month low in October
- In October the 55+ age group added 378k jobs, while the 25-54 years lost 35k jobs
- Since May, multiple jobholders gained 477k jobs, but single jobholders have lost 152k jobs
- So, the 1 in 20 workers who hold multiple jobs account for 147% of net job gains

Meanwhile, uptick in earnings growth result of yoy aggregate hours growth falling faster than yoy aggregate pay growth – not a good sign.

2. U.S. growth rate cycle slowdown is continuing

Our U.S. Coincident Index yoy growth is at a 22-month low (see chart). In addition to slowing jobs growth, the coincident index slowing because:

- Yoy GDP growth is at 1½-year low
- Yoy industrial production growth is near 6-yr low
- Yoy growth in manufacturing and trade sales is near July's 17-month low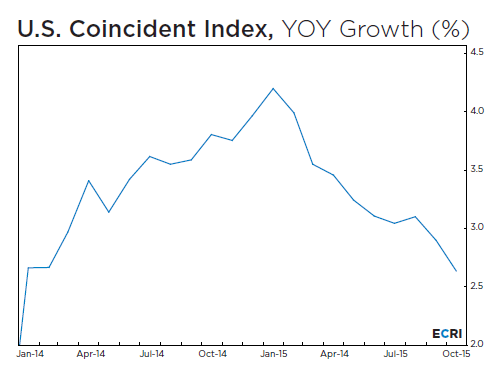 3. The Fed is starting to agree with ECRI's view on long-term growth prospects

The Fed is becoming more explicit about recognizing that the long-term decline in trend growth is not going away, something that ECRI first identified before Lehman blew up in the fall of 2008.

To wit, the Fed minutes state that "the equilibrium level of short-term real interest rates would likely remain low relative to estimates of its level before the financial crisis if trend growth of total factor productivity does not pick up and if demographic projections for slow growth in working-age populations are borne out."

This is in line with ECRI's earlier work, namely, that "economic expansions have been weakening for decades due to the long-term decline in U.S. trend growth. … [T]he GDP calculus is based on simple math; namely, growth in output per hour (i.e., labor productivity) plus growth in hours worked equals real GDP growth."

In other words, adding up the likely trend growth of these two measures – ½% for productivity plus ½% for hours worked – gives us just 1% longer-term real GDP growth.
VIEW THIS ARTICLE ON BLOOMBERG