Inventory Overhang Looms Larger
Given the weakness of the industrial sector, the health of the overall economy hinges on the resilience of the U.S. consumer. So the holiday shopping season needs to be placed in a broader context.

On this score, one of the more troubling economic indicators is the inventory-to-sales (I/S) ratio, which has soared to its highest reading since the end of the Great Recession in June 2009 (not shown). To understand why, the chart presents business inventories (light blue line) and sales (dark blue line), indexed to their respective averages for 2010.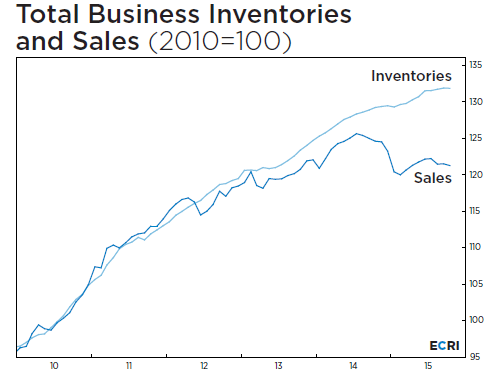 It is evident that, for a couple of years starting in early 2010, inventories and sales rose roughly in tandem, but the increase in inventories began to outstrip the rise in sales in the spring of 2012. Finally, in the summer of 2014, sales peaked and rolled over, and have since stayed in a falling trend. Yet, inventories continued their steady climb.

With a yawning gap opening up between inventories and sales, it is no wonder that the I/S ratio has surged. This inventory overhang is massive, and looms over U.S. industrial growth prospects for the months and quarters ahead.

But the root of the problem has been the inability of the U.S. consumer to keep pace with production following the first couple of years of recovery from the Great Recession. Soft holiday sales only exacerbates the overhang, which will weigh on economic growth, in any case, for the foreseeable future.