Macroeconomic Sightings
With the economy slowing steadily since last winter, year-over-year growth in ECRI's U.S. Coincident Index – subsuming the broad measures of output, employment, income and sales used to determine official U.S. recession dates – has dropped to a 22-month low (chart below). What happens next is the $64,000 question.
ECRI's viewpoint is laid out in the following excerpt from the latest issue of ©2015 Grant's Interest Rate Observer. Used by permission.
The macroeconomic sightings so far related come courtesy of Lakshman Achuthan, chief operations officer of the Economic Cycle Research Institute, a producer of rigorous and thoughtful analyses of the macroeconomy. What ECRI says it sees is a rate of economic growth that is perilously close to no growth.

"What is very slow will get slower," Achuthan tells Grant's, "but in order to make a recession call, we need to see our leading indexes fall in a pronounced, pervasive and persistent way, and we don't have that yet. I'm not saying it won't come, but as of today [Nov. 16], I don't have that. ... The forward-looking indicators, which correctly anticipated the slowdown we are experiencing, point to more slowing ahead of us. As to an outright recession, stay tuned. We need to see the levels of our indicators actually fall."

Achuthan can testify to just how fine is the line between recession and non-recession. He had predicted that the final six months of 2012 would register contraction. The first estimate of GDP growth came in at 1 ½% (that is, at an annual rate of 1 ½%). The fifth revision to that initial estimate, unveiled in July, pushed down the measured rate of growth to a quarter of 1%, about as close to shrinkage as a positive growth figure can be.

The deceleration in GDP growth began 10 months ago, Achuthan continues. He says it's the 22nd such measured cyclical pause since 1948. It's a "moderately severe slowdown by 21st-century standards." The book on slowdowns, he goes on, is that half lead to recessions, half don't: "It's not over, so it's likely to get worse. How much worse is the $64,000 question." The readers of Grant's—the editor of Grant's—would like a little more certainty, of course. It is not to be had.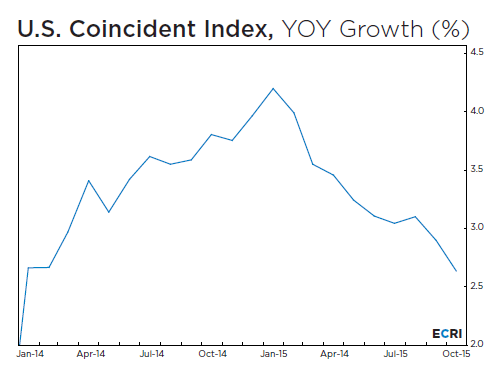 VIEW THIS ARTICLE ON GRANT'S