Interview: Recession Risk, The Fed & Fiscal Policy
Issues discussed during the interview include:

Current growth rate cycle downturn almost two years old, data that define the economic cycle, and how growth rate cycles differ from business cycles.

Why early vs. late innings of expansion or "typical" length of expansion is a meaningless way of looking at the business cycle.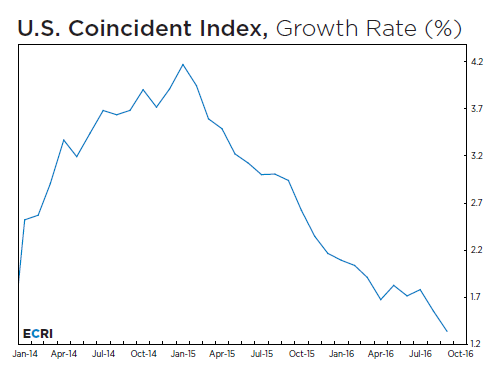 No U.S. recession imminent, but possible later in 2017.

Fed finding it tough to raise rate during a growth rate cycle downturn, but also pressured by rise in inflation, a so-called stagflation lite.

Janet Yellen talking about a "high-pressure" economy, letting inflation rise further in order to get stronger labor market.

Stanley Fischer talking about the limitations of monetary policy imposed by low trend interest rates leading to longer and deeper recessions when the economy is hit by negative shocks.

Policy plan B is fiscally oriented, but that is no panacea.

Simple math: Longer-term, the labor force is hardly growing, and that's because demographics are basically set in stone, with everyone agreeing that over the next five years potential labor force growth will be under ½%.

At the same time, as a nation we aren't getting more productive, meaning despite all the cool technology, we aren't producing much more per hour. Productivity growth has averaged ½% a year over the past five years, and if that doesn't change, ½ + ½ = 1% longer-term growth, and that is much lower than the 3% - 4% that people are hoping for.
Litmus test: So when judging various plans to boost growth, what we really need to be asking is whether they will ramp up productivity growth for the long haul.
VIEW THIS ARTICLE ON FINANCIAL SENSE