A House of Cards
With home price inflation and real earnings in decline, the U.S. consumer is in no position to be an effective engine of growth.

ECRI's U.S. Leading Home Price Index predicted a home price growth downturn in March 2013 (click here for report excerpt), flagging the "worsening home price growth outlook" right before real home price growth turned down in April 2013. With a renewed plunge in housing affordability to almost its lowest reading in over four years (top line) reinforcing the downbeat prospects, that prescient forecast continues to be vindicated, with year-over-year (yoy) nominal home price growth now falling to a 22-month low (bottom line).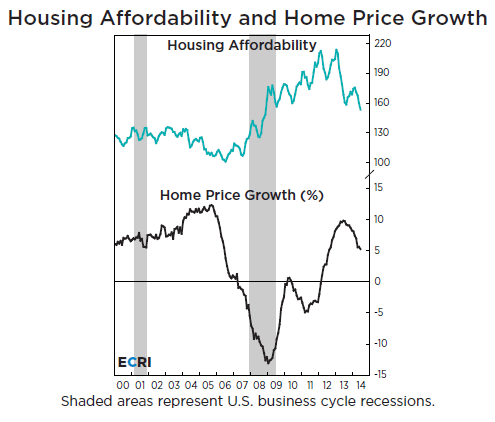 More broadly, yoy growth in ECRI's U.S. Coincident Construction Index has dropped to a three-year low (not shown). Also, yoy growth in new building permits turned negative earlier this year for the first time since 2011. Thus, housing and construction activity is unlikely to be a significant driver of economic growth this year, consistent with our downturn call for construction sector growth last summer, when we declared that "growth in the construction sector is set to pull back further."

The bottom line is that, as predicted by ECRI in 2013, when the consensus was much more hopeful, the picture is far from encouraging with regard to either consumer spending or housing as drivers of U.S. growth.