Swing Shift
Job growth has clearly improved, in line with the upturn in the growth rate of ECRI's U.S. Leading Employment Index. But where are these gains coming from, and what kinds of jobs are being created? After all, with the average household's purchasing power having already fallen by an eighth between 2004 and 2013, and its real net worth having dropped by 40% since 2007, according to the Fed, real earnings growth remains "nonexistent," as Ms. Yellen put it.
Certainly, yoy growth in the number of people with a single job has been trending up over the past year or so (top line, Chart 1). But the real surge was in yoy job growth for multiple jobholders, which remains near October's 18-year high (bottom line), accounting for a disproportionate share of the past year's job gains, following the termination of extended unemployment benefits at the end of 2013.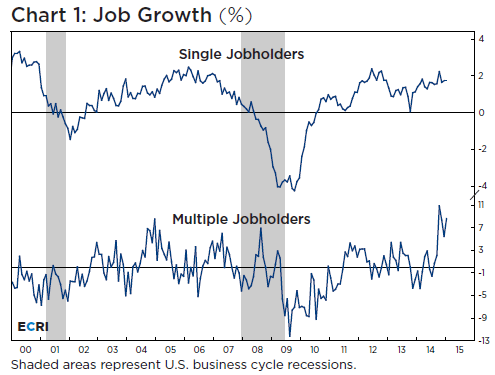 Naturally, low-wage jobs, many of them part-time, have accounted for a major proportion of the subsequent increase in employment growth. No wonder, as we have emphasized, and as Chart 2 shows, yoy nominal average earnings growth is still lackluster, despite the January boost from the rise in minimum wages in a number of states.