A Bit of a Surprise?
The two biggest surprises for the markets in 2014 – falling oil prices and international bond yields – are completely consistent with ECRI's cyclical call on global growth, and its prescient call on secular shifts in developed economies. Furthermore, when made, those forecasts were diametrically opposed to the consensus view.

On the cyclical front, by the early summer of 2014, with crude oil prices at their highest levels in nearly a year, a widely-followed Wall Street house proclaimed that "the long-awaited global recovery appears to be getting on track, lifting commodity demand." They justified the call by noting: "our economists continue to see global growth accelerating to above trend later this year and into 2015."

The very next day, ECRI warned of a looming slowdown in global growth ICO, July 2014, and over the next few months global growth concerns helped to slash oil prices by almost a third (see updated chart below).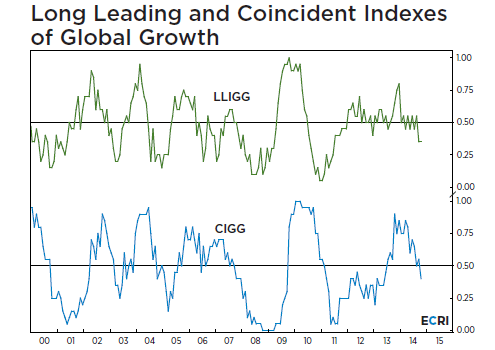 Then, a further price slide was triggered by the late November announcement from oil-producing countries that they would maintain production levels. But with most of the price drop predating that announcement, the key catalyst for the downturn in prices was the shift in the consensus view on global demand that also pressured the prices of other industrial commodities, rather than supply concerns that have dominated headlines.

The euphoria about global growth prospects goes back to the beginning of the year, when Ken Rogoff, witnessing "the giddiness among the great and the good in Davos," observed: "People are euphoric here, they think everything is going to be fantastic" ICO, January 2014. In response, based on the configuration of our global leading indexes, we asserted that we were not "on the cusp of a sustained cyclical upswing in growth in any major economy that is capable of acting as a locomotive for global growth."

Aside from the stumble in U.S. GDP in early 2014, the coming slowdown in global growth did not become evident to the consensus for some time. The realization that the major developed economies were all experiencing a multi decade decline in long-term trend growth – which is ECRI's well-established view – took even longer to dawn on most observers. Yet, since the summer, the altered perceptions have triggered swoons in both international bond yields and the prices of industrial commodities, including oil.