January Flashback: If not now, when?
At the beginning of the year (US Essentials, January 2015) we asked a rhetorical question about rate hike timing: "If not now, when?" This was because – contrary to the consensus that expected economic growth to improve even further as the year progressed – ECRI's leading indexes foresaw a slowdown.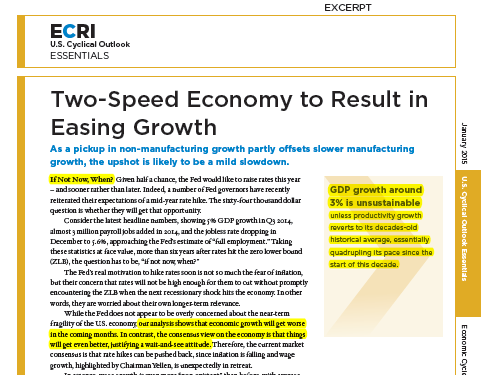 The Fed's current rate hike plans are on a collision course with an economic cycle that has already been slowing. In fact, the Fed has been signaling a rate hike this year – if not this week, then by December – clearly expecting a pickup in growth. ECRI's leading indexes suggest the opposite.

Typically, rate hike cycles begin when the economy is accelerating, and in turn cause the economy to start slowing a few quarters down the road. This is why an initial rate hike is taken as a sign that the economy is just fine, thank you.

What most may not realize is that U.S. economic growth has actually been falling since the start of 2015. Year-over-year (yoy) growth in ECRI's U.S. Coincident Index, a broad measure of economic activity that includes GDP, employment, income and sales, has fallen to a one-and-a-half-year low.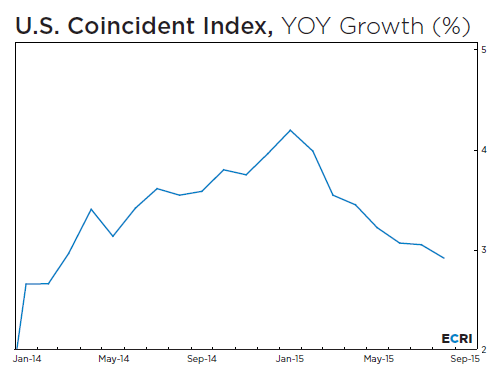 We understand that the Fed really wants to raise rates after keeping them at zero for seven years. This is why, at the beginning of the year, with growth having accelerated throughout 2014, we asked, "if not now, when?" Today, the reality is that growth has been slowing all year. As the chart shows, that's a fact, not a forecast.