Flagging Family Fortunes
The fortunes of the average family have been in decline since the late 20th century. Specifically, the real median household income has declined by 11% over 15 years since its 1999 peak (thick black line, middle panel).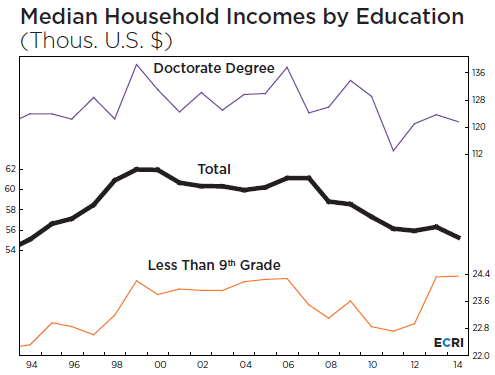 Households headed by high school or even college graduates have not been immune to this decline (not shown). And those headed by the most educated individuals – with doctorate degrees – have seen their median income fall by 12% in 15 years (purple line, upper panel).

A singular exception to this pattern are households headed by the least-educated – those with less than a ninth-grade education – who saw their median income increase to a record high in 2014, surpassing its 1999 high (orange line, lower panel).

This pattern of gains for the least educated during this recovery mirrors our earlier finding that the employment/population ratio has improved only for those with less than a high school diploma, but not recovered any of its recessionary losses for the eight out of nine American adults who are high school or college graduates.

So, while the least-educated have made disproportionate gains in terms of employment and income, the broad middle has seen an inexorable decline in income since the end of the 20th century, through the last two recessions and recoveries. This longer-term structural decline inevitably undermines the gains of the economic expansion, explaining why so many feel the economy is not working for them.