Fed Faces Stagflation Lite
The cyclical downturn in U.S. economic growth that began more than a year ago remains intact. The evidence comes from the year-over-year (yoy) growth rate of ECRI's U.S. Coincident Index (USCI) – subsuming the aggregate measures of output, employment, income and sales that define the business cycle – which has been in a clear downtrend since the beginning of 2015 (blue line).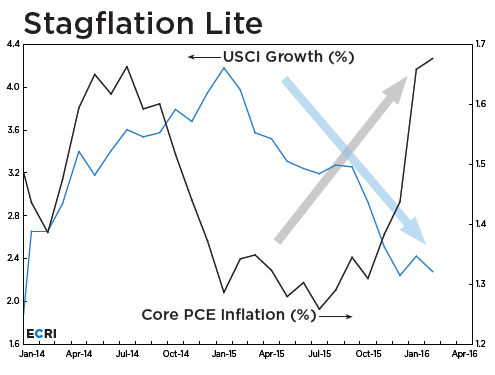 Meanwhile, yoy growth in the core PCE deflator turned up last summer and has since climbed to a three-year high (black line). Indeed, it is already approaching the Fed's 2% inflation target. The Fed pays attention to this measure because it is thought to better capture the inflation trend, being free from more "transitory" influences like food and energy price inflation. Yet, Fed Chair Janet Yellen is wary of acknowledging the possibility of a sustained rise in inflation, noting that, while "recent readings on inflation have moved up," she had not "yet concluded that we have seen any significant uptick that will be lasting," and expects the target to be reached only "over the next two or three years."

However, with USCI growth in a cyclical downswing (thick blue arrow) for over a year, and core PCE inflation in a cyclical upturn (thick gray arrow) for more than half a year, these are no temporary blips, especially in light of the U.S. Future Inflation Gauge hitting a 7½-year high. This is why we have been saying that the Fed is faced with what we might call "stagflation lite" (USCO Essentials, March 17, 2016). Given its dual mandate, this presents quite a policy conundrum for the Fed.