Export Engines Cut Out
A key objective of repeated rounds of quantitative easing by international central banks has been competitive devaluation to boost exports. As we observed early last year, this was "largely why advanced economies' export volume growth has improved a bit … Yet, even this modest uptick in export volume has come at the expense of a nosedive in export price growth" (ICO Essentials, January 2015).

Updating the data we showcased at the time, we find that advanced economies' yoy export volume growth has since petered out (not shown), despite serious export price deflation. Indeed, yoy export price growth for advanced economies – which are hardly dominated by energy or commodities – fell deep into negative territory last spring, exhibiting the worst export price deflation in six years, i.e., since the Global Financial Crisis (GFC), and is still well below zero (not shown).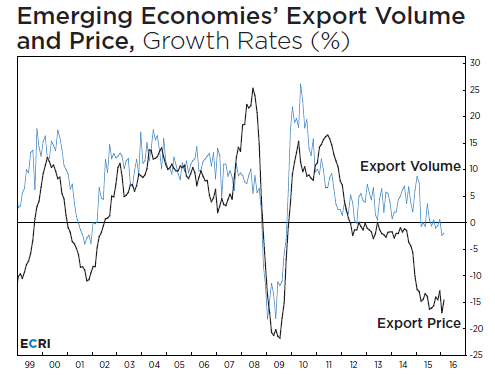 For emerging economies, the picture is even more dire, with export volume growth slipping further into negative territory, near a six-year low (blue line). But export price growth for emerging economies is displaying deep deflation, hovering near a 6½-year low (black line).

In essence, export volumes for both advanced and emerging economies have been essentially flat for almost a year and a half (not shown). This has happened even with emerging economies' export price levels plummeting by more than a quarter and advanced economies' export price levels plunging by a fifth by early 2016 – i.e., in less than two years (not shown). Plainly, we are seeing rampant export price deflation for advanced and emerging economies alike, but even this steep fall in prices has been unable to boost export volumes.

Thus, competitive devaluation no longer works as a policy tool. Furthermore, negative interest rate policy (NIRP) has backfired this year, with the euro and the yen actually appreciating following rate cuts by the Bank of Japan (BoJ) and the European Central Bank, respectively.

The impotence of such monetary policy could hardly be clearer.