Latest Jobs Data in Context
See link below to watch the interview on Reuters TV.
Coincident Indicators
Good to see jobs growth continue, however, the cyclical downturn in year-over-year (yoy) payroll job growth that began a year and a half ago continues, for last three months it's been unchanged from May's 26-month low of 1.7%.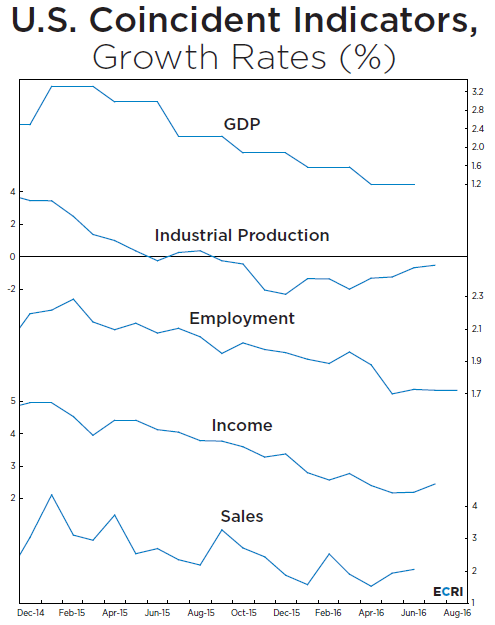 Yoy GDP growth has dropped to a 3-year low of 1.2%
(and it'll stay under 1½% even if we get 3% Q3 quarterly growth)

Meanwhile, yoy IP growth has been negative for last 11 months, while becoming less negative since hitting a 6-year low in December.

Also, back in the spring, yoy real income and sales growth hit their lowest readings in over two years, and they are still near those lows.

ECRI's U.S. Coincident Index, which is a broad summary measure of economic activity, has been locked in a clear cyclical downturn, and its yoy growth rate remains at a 2½-year low.

This data shows why the Fed hasn't been able to hike since last December: since early 2015: its rate hike plans have been on a collision course with the economic cycle.

At the same time, please recall that in early 2016, when many were afraid of recession, ECRI declared that such fears were premature. Basically, it's been a cyclical slowdown in growth, but no recession.

World Exports Decline

Of course, the Fed has been mentioning the global economy a lot more in recent meetings, and here the picture remains concerning.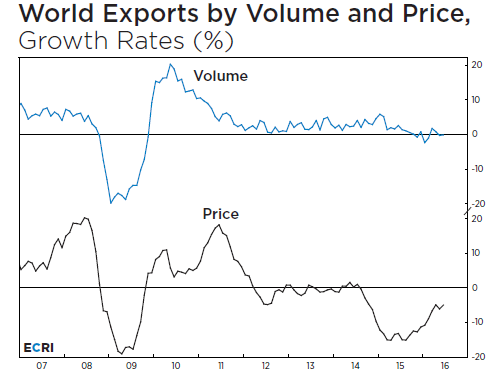 You see that global trade continues to languish, with yoy global export volume growth slipping back below zero (top line), even with yoy export price growth staying deep in deflationary territory (bottom line).

World export prices have fallen by 21% since the summer of 2011, compared with their 22% plunge during the GFC in 2008-09.

Central banks around the world have tried to spur trade through competitive devaluation, but it is of no avail from this global perspective.

Currency depreciation for one set of economies automatically results in currency appreciation for the others.

That policymakers' collective efforts at stimulating their respective economies have resulted in such massive deflation is a serious indictment of their actions.
VIEW THIS ARTICLE ON REUTERS