ECB Risks Inflation Surprise
Widespread inflation cycle upswings across the advanced economies are now in evidence, thoroughly vindicating our "global reflation" call last summer. A case in point is the Eurozone, where year-over-year (yoy) growth in the Harmonized Index of Consumer Prices (HICP) has surged to the 2% target set by the European Central Bank (ECB), following the earlier upturn in ECRI's Eurozone Future Inflation Gauge (EZFIG), as shown in the chart below.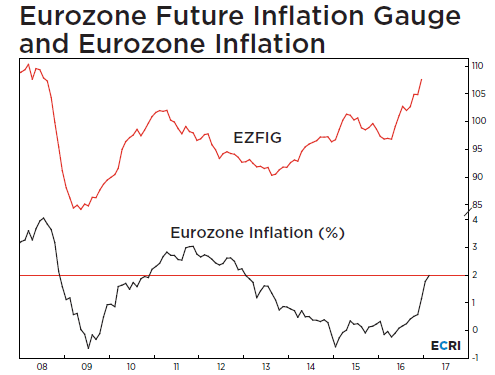 Despite Eurozone headline consumer price inflation hitting a four-year high, the ECB remains sanguine because core consumer inflation was unchanged at 0.9%. Fixated on the level of inflation, the ECB thereby misses the importance of the cyclical upswings in both headline and core consumer price inflation, as well as in yoy producer price inflation, which has now risen to its highest reading in nearly five years.

The point is that ECRI's many future inflation gauges, which heralded the global reflation that is now self-evident, remain in decisive cyclical upswings. In particular, the EZFIG has soared to its highest read in over 8½ years. As such, Eurozone inflation will stay in a rising trend, from which core inflation will not be immune. Seemingly oblivious of this cyclical reality, the ECB risks falling behind the curve and will face pressure to end QE sooner than it realizes.