ECB Mistaking Structural for Cyclical
A key reason central banks have sustained prodigious amounts of QE is their misplaced belief that highly accommodative monetary policy would heal labor markets – even though much of their problems are structural. The Eurozone is a case in point. While the Eurozone jobless rate has fallen from its record high of 12.1% in April 2013 to 9.6% today – the lowest since May 2009 – it still remains above the all-time low of 7.2% seen in March 2008.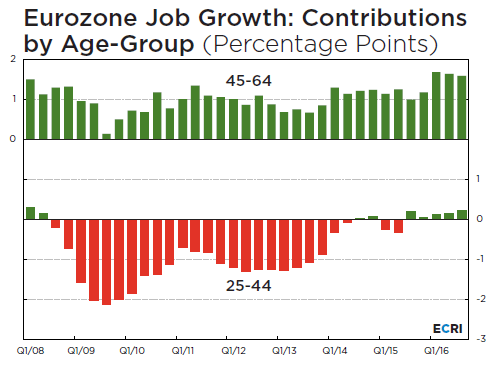 It is instructive to examine the basic demographics of Eurozone job growth since 2008. During this entire period Eurozone job growth has actually been positive in every single quarter for the 45-64 age group (chart, upper panel). In stark contrast, job growth was negative in every quarter for six years, from mid-2008 to mid-2014, for the 25-44 age group, before turning marginally positive in recent years (lower panel).

While the details vary from country to country, structural rigidities in the Eurozone have rendered it difficult to fire people when necessary. Many employers have therefore been hiring younger workers only for part-time jobs that do not enjoy such protections. Yet, even with these part-time jobs, those under their mid-40s have endured massive net job losses for years on end.

The job gains and losses do have a cyclical aspect, which is most clearly evident in the 25-44 age group dominated by the red bars in the chart. But for the 45-64 age group, hardly any cyclicality is evident, with a pattern of steady job gains shown by the green bars.
What is most striking is the enduring disparity in job gains and losses for those between 25 and 44 versus those who are 45 and over. Massive QE has done little to reduce this gap, underscoring the reality that this is, in large measure, a structural problem, not just a cyclical issue that might be addressed by monetary policy. Nevertheless — as we argued in a recent paper — just as the Federal Reserve kept pushing QE for years on end, having mistaken a structural problem for a cyclical one, so also the ECB may be tempted to keep QE going, even though the Eurozone's structural problem with jobs is not amenable to a monetary policy solution.