Japan's Fourth Recession Since 2008
There is a strong suggestion that Japan's slide into a fresh recession came as a surprise.

But Japan's slide into its fourth recession since 2008 should not have been a surprise. Rather it was clearly telegraphed by our cyclical indicators, as chronicled below.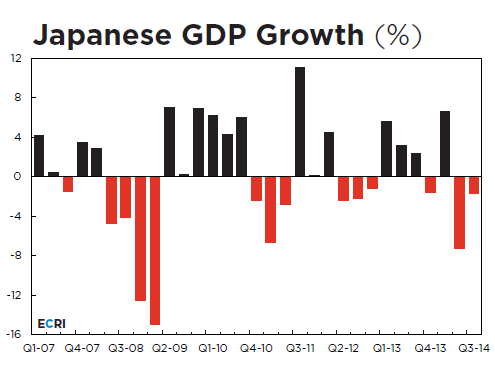 Sep. 2013: In a BBC feature story on the cyclical upturn in Japan we said, "[i]t's unclear how long it will last beyond a few quarters."

Oct. 2013: International Cyclical Outlook: "[m]onths after exiting its sixth recession in two decades, Japan is entering a fresh downturn in growth."

May 2014: International Cyclical Outlook: "It is notable, however, that JALLI [Japanese Long Leading Index] growth has not been this low away from recession since 1997, and hence it will certainly bear watching. If it continues to slide, Japan could be at risk of slipping into a new recession, once again surprising policymakers."

Aug. 2014: International Cyclical Outlook: "Notably, JALLI growth has never been this low outside recession. In other words, there is a definite possibility that the Japanese economy is already in the early stage of a new recession.

Sep. 2014: In a Wall Street Journal interview on our call for a new recession, we said, "[w]hat we see is eerily similar to 1997, which was one of the worst recessions Japan ever had," pointing viewers to a report we made public that same day.

Stepping back from today's headlines, the economic cycle backdrop described by our "yo-yo years" thesis of slower trend growth leading to more frequent recessions speaks to the fact that Japan has experienced four recessions since 2008, and seven since 1992.