Weak Business Investment No Surprise, Preceded Brexit
Last fall – with the Fed trumpeting that fixed investment had been "increasing at solid rates in recent months," laying the groundwork for their first rate hike in seven years, we disagreed, pointing out that, "defying [the] Fed, business investment growth slows." Moreover, we declared that, with the Fed counting on investment growth to bolster the economy, it could well be disappointed, making their plans for a "rate hike cycle" look increasingly ambitious.

Today, it is evident to everyone that business investment growth has continued to slow, and fell in its latest reading to a 5-½ year low – its worst level since 2010. And to be clear, this has little to do with Brexit.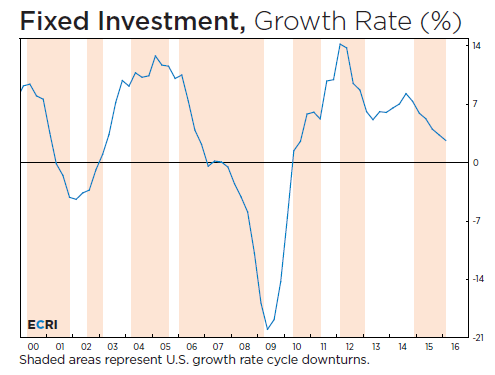 In her recent press conference, Fed Chairman Janet Yellen admitted that the slowdown, and specifically, that the persistent weakness in business investment outside of energy "was not expected."

Yet, the chart clearly shows that investment growth has been in an extended slowdown. Furthermore, similar declines have presaged past recessions.

While a recession is not yet at hand, the overall economic slowdown that began a year and a half ago continues to weigh on investment. And with the end of that cyclical slowdown not in sight, the investment growth slowdown is unlikely to end any time soon.