An Economic Truism: "Recession Kills Inflation"
The world's major central banks have been engaging in competitive devaluation, amounting to desperate grabs for bigger shares of a barely-growing global economic pie. Yet, deflationary forces continue to be transmitted through trade, with most economies experiencing a degree of export price deflation matched only during the Global Financial Crisis.

Given the effect of currency movements on inflation in individual economies, it is instructive to examine year-over-year CPI growth in the Group of Seven (G7) economies as a whole. As the chart shows, core CPI inflation in the G7 economies is hovering around 1½%, as headline CPI inflation remains near zero. Said another way, G7 core inflation is closer to the low of 1.1% seen after the 2001 recession than its cycle highs of 2% in the immediate vicinity of the 2001 and 2007-09 recessions.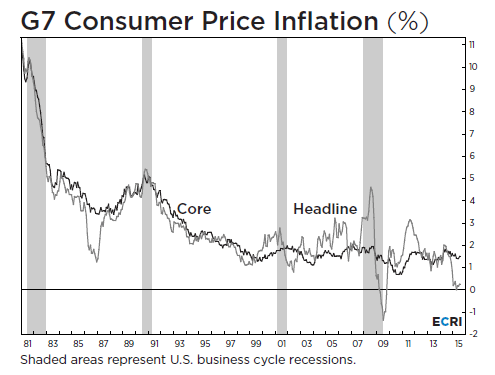 The chart demonstrates the truism, "recession kills inflation." It shows G7 core inflation falling for years after the 1981-82, 1990-91, and 2001 recessions in the U.S., and for more than a year after the Great Recession of 2007-09. Most of these economic downturns also amounted to global recessions.

With G7 core inflation already so low, it is clear that none of the major central banks are in a position to start a rate hike cycle anytime soon. Thus, they are effectively shackled to the zero lower bound for the foreseeable future.

Meanwhile, global growth is already slowing, with the U.S. having spent 2015 in a growth rate cycle downturn that we flagged nearly a year ago, and looking ahead, global growth is slated to slow for the foreseeable future. So, even though a U.S. recession is not yet at hand, a 2016 recession could push down already-low G7 CPI growth into deflationary territory – at a time when the world's central banks are out of ammunition.