Amid Structural Lowflation, World Exports Decline
As we first showed in early 2015, and expanded on this summer, trade continues to languish, with year-over-year (yoy) global export volume growth slipping back below zero (Chart, top line), even with yoy export price growth staying deep in deflationary territory (bottom line). Indeed, world export prices have fallen by 21% since the summer of 2011, compared with their 22% plunge during the Global Financial Crisis (GFC) in 2008-09.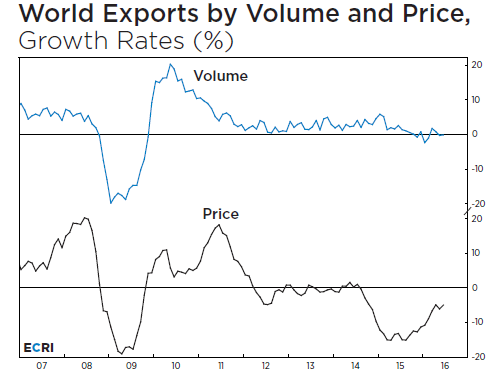 While central banks have tried to spur trade through competitive devaluation, it is of no avail from this global perspective, since currency depreciation for one set of economies automatically results in currency appreciation for the others. But the fact that policymakers' collective efforts at stimulating their respective economies have resulted in such massive deflation is serious indictment of their actions since the end of the GFC.