2016 Shapes 2017 Cyclical Outlook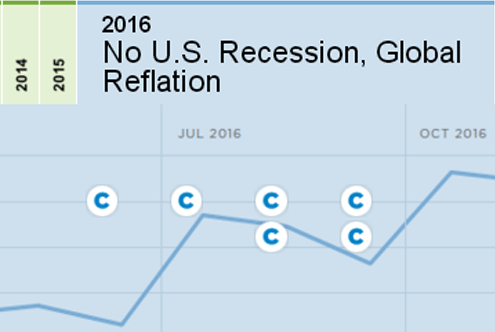 ECRI's 2016 track record has been posted (highlights below) with many of the cyclical forecasts continuing into 2017, including reflation calls for both the U.S. and global economy, a global industrial upturn call, and a U.S. growth rate cycle upturn call:
October 2016: Improving global growth outlook.
September 2016: Global industrial growth boosting commodity prices, affirming ECRI's call for global industrial growth upturn.

While global growth decelerates and world export volumes decline, India bucks the trend.

August 2016: ECRI's "global reflation" call, based on its international future inflation gauges exhibiting widespread buildup of cyclical reflationary pressures, despite sustained structural lowflation.

June 2016: Both before and right after Brexit vote, ECRI stood firm that Brexit would not trigger immediate U.K. recession.

March 2016: Slowing economic growth and simmering inflation pressures add up to ECRI's "stagflation lite" forecast.

January 2016: No full-blown Fed rate hike cycle, with U.S. growth rate cycle downturn set to continue. Despite recession fears, no recession at hand.

For related ECRI report excerpts please visit our Track Record page.