Becoming Japan: Update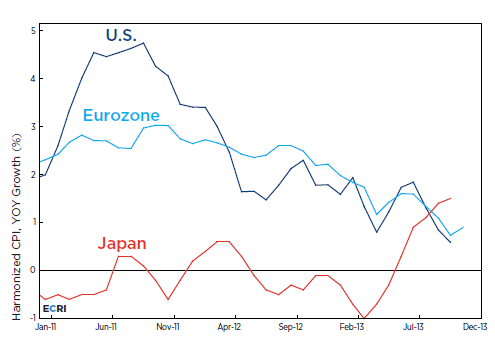 The European Central Bank cut rates last month following a "surprise" drop in Harmonized CPI inflation to 0.7% in October. But a head-to-head comparison on the same metric (see chart) shows that U.S. inflation was actually lower, having dropped to just 0.6% in October.

What many still fail to acknowledge is that the major Western economies – including the U.S. – are effectively becoming Japan: the comfortable consensus is that, in contrast to the Eurozone, inflation in the U.S. should be (to quote the Fed) "moving back toward its longer-run objective" of 2%, and thus not a concern.

But should it be a concern, with yoy growth in the Personal Consumption Expenditures deflator falling to a four-year low of 0.7%, increasingly distant from the Fed's 2% target, precisely as ECRI had predicted?