Becoming Japan (Part 2)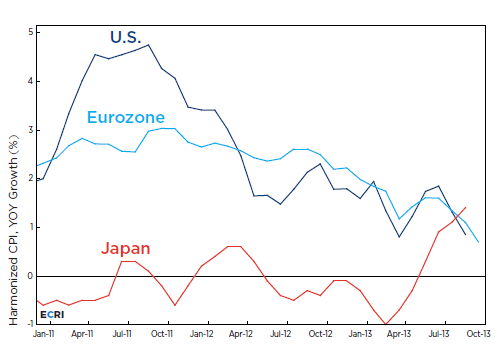 Earlier this year we pointed out that, with the U.S. and other major Western economies experiencing slower growth in the last five years than Japan in its lost decades, long-term trend growth had already downshifted around the world, resulting in weaker recoveries and more frequent recessions than most had expected when the 21st century began. Following Japan's lost-decades example, the policy response has been more and more quantitative easing, which has been unable to break this pattern.

Rather, in the U.S. and the Eurozone, the central banks are increasingly failing to meet critical inflation target mandates. In reality, these major economies are already like Japan in its lost decades, recalling the economic truism that recession kills inflation.

Indeed, harmonized CPI inflation fell to just 0.7% in the Eurozone in October. But in the U.S. it had already fallen to 0.8% by September, when inflation in both economies dropped below that in Japan.

Ominously, ECRI's Future Inflation Gauges remain in cyclical downturns in both the U.S. and the Eurozone. Thus, in the coming months, inflation is likely to fall further below their official targets in both economies.