Cycle Dynamics in Recovery from Covid Crisis
In early 2020, cascading closures triggered by the Covid-19 pandemic forced the economy into recession. Our timely cyclical insights, derived from ECRI's proprietary leading indexes – with critical implications for key asset classes including stocks, bonds and commodities – helped our clients navigate the recovery.

These leading indexes provided accurate, objective and unwavering guidance on cyclical direction in the face of unprecedented event risk from political shifts and rapid-fire developments about the spread of the pandemic and vaccine rollout.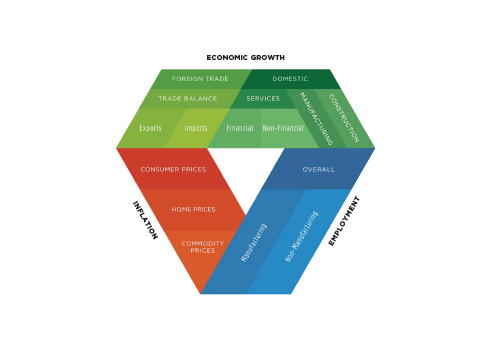 Our real-time experience over the past year, summarized below, underscores the importance of timely signals of cyclical changes to protect from, or take advantage of, market moves.


April 17, 2020: Equities and Cycle Dynamics
Based on decades of cycle research, by April we knew that the recession would be among the shortest on record. We wrote: "If the economy starts opening up, even partially, by mid-year … this would be among the shortest recessions on record. … [and] stock prices … would likely turn up by early spring, possibly by this March or April" (U.S. Essentials, April 2020, Vol. XXV, No. 4).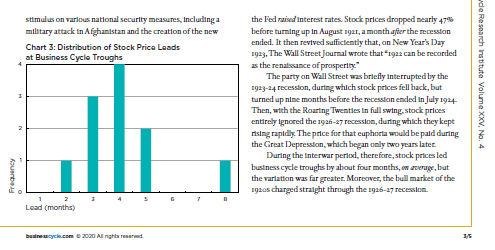 This timely call, based on our cyclical insights, still stands almost a year later. As a result, the S&P 500 rose over 38% from the day we made the call through the end of the first quarter of 2021.


May 27, 2020: Commodities and Cycle Dynamics
By late May, our leading indexes were signaling that a "nascent revival in global industrial growth is now on the horizon. Those early tidings come from ECRI's high frequency leading indexes, which are moving off their extreme lows" (International Essentials, May 2020, Vol. XXV, No. 5).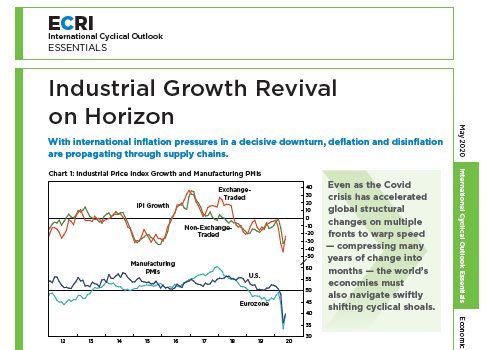 This upturn was only just beginning, and still remains in force more than ten months later. The direct beneficiaries of this global industrial growth upturn were commodity prices, as well as commodity and industrial stocks.

In fact, the prices of copper and crude oil increased by over 62% and 76%, while the SPDR S&P Metals and Mining ETF (XME) and the Industrial Select Sector SPDR Fund (XLI) rose over 87% and over 43%, respectively, between the day we made the call and the end of the first quarter of 2021.


September 18, 2020: Bonds and Cycle Dynamics
"Underlying inflation pressures have ticked up" in the U.S., we warned last summer (International Essentials, August 2020, Vol. XXV, No. 8), as rising inflation came to the forefront of our concerns. By September, it was clear that, "[t]hough the recovery from recession is far from complete, U.S. inflation pressures are now in an unambiguous cyclical upswing. That is the clear message from ECRI's forward-looking indexes of inflation" (U.S. Essentials, September 2020, Vol. XXV, No. 9).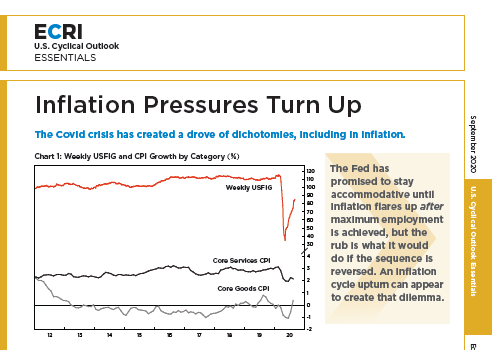 While the implications of our inflation upturn call have been recently roiling the markets, knowing the direction of the inflation cycle with full conviction back in September was vital for our clients. Indeed, bond prices, as measured by the iShares 20+ Year Treasury Bond ETF (TLT), declined more than 17% between the day we made the call and the end of the first quarter of 2021.

Recent economic data have been exceptionally strong, and many expect things to stay this way. But storm clouds are already gathering on the horizon and, as the year progresses, we are likely to see pivotal changes in cyclical direction.

To cut through the noise of coincident and lagging data releases, we will continue to rely on the ability of our forward-looking indexes to objectively signal the changes in cyclical direction that override event-driven analyses and narratives shaped after the fact to fit cyclical patterns already in place.

Cycles are critical for investors, and timely signals of changes in cyclical direction – coupled with the clarity and conviction provided by ECRI's insights – are indispensable for risk management. To avail of our services, please contact us.